Pushing its $1.86 billion acquisition offer, Indian Hotels Co has asked Orient Express Hotels chairman J Robert Lovejoy for a meeting with Tata group chairman Ratan Tata along with Ferrari chairman Luca Montezemolo to discuss the issue.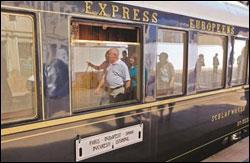 In an attempt to allay concerns of the US-based hospitality chain, Indian Hotels Co Ltd (IHCL) vice-chairman R K Krishna Kumar, in a letter to Lovejoy, said the Tata group firm would like "to engage in a constructive dialogue".
"Given the urgency and the importance of the subject, Mr Ratan Tata, Chairman of the Tata Group, and Mr Luca Montezemolo, Chairman of Ferrari, will be happy to meet with you and your board at your earliest convenience," Kumar said in his letter.
He further said IHCL "has always endeavoured to pursue friendly transactions with counterparties".
"In this situation, we are seeking to forge together an alliance between the two great names in the hospitality industry to significantly broaden the footprint of both companies and create a new global competitor in the luxury segment of the hospitality industry," Kumar added.
Citing the examples of Jaguar Land Rover and Corus acquisitions by the over $100 billion conglomerate, he said: "...Orient-Express Hotels will remain a separate and independent company with standalone management and board of directors, as has been the policy and practice throughout the Tata Group."
Orient-Express Hotels has already described IHCL's second attempt to acquire it as "unsolicited".
On October 18, IHCL along with Charme II Funds, founded by the family of Ferrari chairman Luca Montezemolo, had made an all-cash offer to acquire the outstanding 93.1 per cent stake at $12.63 per share.
This is the second time that the Tata group firm is attempting to gain control of Orient Express Hotels after its failed attempt in 2007 due to stiff opposition from the then management of the target firm.