Analysts say consumers would be the real winners.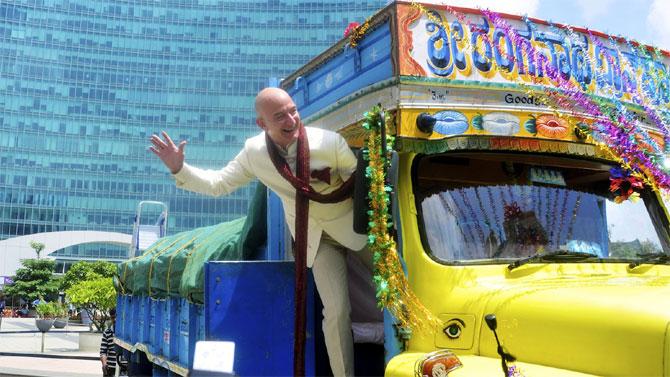 Aggressive competition with Indian market leader Flipkart and international rival Alibaba is one side of the story for American e-commerce major Amazon, which has promised a fresh investment tranche of $3 billion (Rs 20,000 crore), on top of the earlier $2 bn.
Analysts say the consumer would be the real winner.

For, the additional round of investment would mean better logistics, more warehouses, more sellers on e-commerce platforms, translating into a superior level of service, larger assortment of products, deeper reach and good pricing.
It helps that entities with deep pockets are entering the e-commerce market.

China's Alibaba, which already has investments in Paytm and Snapdeal, plans a direct entry.

Chinese web service major Baidu is looking for companies to invest here.

Rakuten, a Japanese electronic commerce and internet company, is also likely to join.
Indian conglomerates have also turned serious on the online business.

Tata Sons, Reliance Industries, Aditya Birla Group and Mahindra & Mahindra have all entered the sector.
"Investments that major companies are making would help in enhancing the infrastructure in the segment. Logistics is one of the major areas where more money would be put in,'' said Saurabh Srivastava, co-founder of Indian Angel Network and of the IAN Incubator.
More warehouses would mean faster delivery of products and more local hubs would add to the online system, he noted.
With the changing metrics in e-commerce, say insiders, the funds would be used to ensure customers don't stray to other platforms.

"Discounting was never a way to make customers stick to a portal but we all had it wrong,'' said a senior executive at an e-commerce firm.

"The first wave of money was wasted in doling out discounts. Now, I think, most of the monies would be used in precision analytics, bulking up logistics and making customers realise a particular e-commerce portal is all they need for almost all their needs."
Entities such as Alibaba and Rakuten would bring in their huge vendor base from Southeast Asia.

Amazon's would be from the US and Europe, said Amarjeet Singh, partner at KPMG in India. The choices available to customers would increase massively.
"After Press Note 3 (the new guidelines on foreign investment into the sector and how entities are to operate), I do not think they would compete more on price but on the variety of goods, vendors and services. Also, the concentration of companies would shift to Tier-III and Tier-IV cities, as there is opportunity to target niche consumers."
Some believe that with more companies coming into India, the rules of the game might change again.

"Once Alibaba is here, and if they don't buy the companies they are invested in, you'll see the discount war start once again," says Harish H V, partner, Grant Thornton.

The current policies, which set riders on marketplaces, are bound to change as business models in India evolve, he said.
What will the incumbents do, once the giants start spending highly.

"They will have three options -- fight the war, sell out or consolidate their position by sticking to what they know best," he said.

However, if the incoming majors choose the acquisition route to enter, the party for the Indian customer could be cancelled before it starts.

"They will buy out established brands and won't need to build anything. And, anyway, the Indian customer has had a great time until now. The party had to end someday," he added.
AMAZON'S INVESTMENT
$2 billion announced in August 2014
$3 billion additional in June 2016
COMPANIES PLANNING TO ENTER INDIA
Alibaba: Chinese major has invested in Paytm and Snapdeal
Baidu, Inc: A Chinese web services firm headquartered in Beijing's Haidian District
Rakuten, Inc: A Japanese electronic commerce and Internet company based in Tokyo, Japan