Unlike Ratan Tata's philosophy, Mistry cared about short-term gains. This is a Diwali gift for many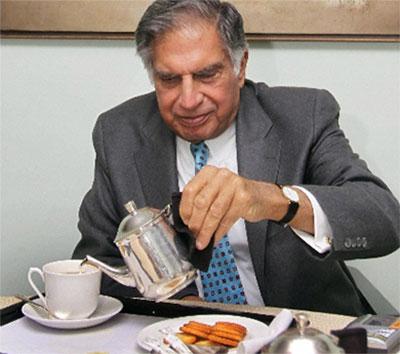 In hindsight, Tata group senior executives say, it always seemed that all was not well between the ousted chairman Cyrus Mistry and now interim chairman Ratan Tata. But, no one expected that Mistry would be replaced. It was a bolt from the blue.
"What happens in Tata Sons' board meeting is a well guarded secret. Some of it trickles down through the grapevine," they say. They may or may not have been able to read the tea leaves but the return of Ratan Tata at the helm has brought much relief to old timers within the group.
"Many young people had been inducted to the Group Executive Council (GEC) who lacked experience," an old timer pointed out. The GEC was set up by Mistry to provide strategic directions and operational support.
It's not just the old timers who are celebrating the comeback. There is muted exuberance among thousands of TCS employees across Gurgaon, Bengaluru and other centres. TCS, one of the crown jewels of the Tata group, witnessed lay-offs in 2014 and it's never been quite the same.
Senior talent left, the management was reshuffled and employees were left in the lurch in an organisation synonymous with job security. A slew of cases were filed, especially from Bengaluru where all the fired employees formed a group to register a case against the IT giant. Though companies are driven by their respective boards, employees see Mistry's hand in the lay-offs. His ouster prompted a flurry of exchange of messages saying it was "poetic justice".
"Unlike Ratan Tata's philosophy, Mistry cared about short-term gains. This is a Diwali gift for many," a senior TCS executive in Gurgaon said.
"It is a reason to celebrate but we are waiting anxiously on who would be the next chairman," an employee said.
Workers at the Sanand plant, too, are happy that old guard, Ratan Tata, is back at the helm, even if for a brief period. Nano was Tata's pet project and from Mistry's letter it's clear that emotions kept Nano alive.
"Tata was there for decades and he is a name to reckon with. We joined the house of the Tatas because it is one of India's oldest, largest and most respected business houses in India. In older days there was huge job security that this group offered, things are different now, though," said a supervisor.
Senior executives at Sanand, however, are more worried about the fate of the plant and the contents of Mistry's letter have only added to it.
"It is obvious the car has not been doing as well as one would have wanted it to. Despite tightening the noose and adopting lean manufacturing, the enterprise continues to bleed. Several executives have quit in the past few months, and recruitments at senior levels have been in the slow lane," said one officer on conditions of anonymity.
Salary appraisals have been average at Sanand for years now. Each year, the company has been highlighting that the performance of Tata Motors in the market has not kept up to expectations.
The executives are worried how a change in the group's management structure is likely to impact loss-making entities like the Nano or the Sanand plant at large.
Component makers at Sanand are also worried about a long-term demand for Tata Motors passenger cars than management changes at the top.
"The company has a pipeline of launches, some of which would be from the Sanand plant and any change at the top is unlikely to change that right now. Their models have not been doing well in the market, and we only hope that some of these new models click, so that our prospects improve," said a senior official of a supplier of rubber parts.
Among those who are worrying about the future is also the West Bengal government which has been nursing the hope for settling the spat over Singur once and for all. The Supreme Court has paved the way for return of land to the farmers but will Tata's comeback cast a shadow, wonder the officials at Nabanna, the state secretariat.
Photograph: PTI Photo