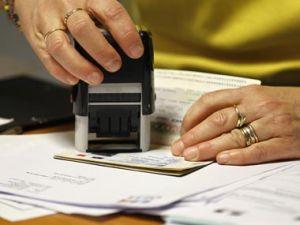 Munich-based Giesecke and Devrient supplies security features to the RBI for currency notes, and machines to bank branches across the country to detect counterfeits.
The Narendra Modi government's note ban has impacted diplomats and the functioning of embassies, but not everybody is complaining.
Russian ambassador to New Delhi Alexander Kadakin lodged a strong protest with South Block about the cash crunch that his mission has faced since November 9. Several others have either not been as vocal, or like the Germans, are looking at the business opportunities the move would offer their companies.
Munich-based Giesecke and Devrient, for example, supplies security features to the Reserve Bank of India for currency notes, and machines to bank branches across the country to detect counterfeits.
On Tuesday, Germany's parliamentary state secretary (equivalent to minister of state) for economics and energy Uwe Beckmeyer met senior finance ministry officials, Economic Affairs Secretary Shaktikanta Das, and was also slated to meet National Security Advisor Ajit Kumar Doval.
When asked how demonetisation was likely to impact Germen investments in India, Beckmeyer said as a German policymaker he should keep away from making any statements about India's internal politics. Beckmeyer said he had a meeting with Das and was told "that demonetisation is going on quite successfully."
"German companies are also involved in this (demonetisation), including printing bank notes that are hard to counterfeit," the visiting German minister said. He hoped that the note ban would work.
Giesecke and Devrient was set up in India in 2001 after RBI's "clean note policy". According to its website, the company has footprints in India, Bangladesh and Pakistan, too. Its machine portfolio encompasses every stage of the cash cycle, from printing plants to sorting machines. It provides substrates and security features for banknotes.
However, several embassies, particularly those of developing countries, have faced cash problems after demonetisation. Embassies and high commissions of countries with vibrant business relations with India and significant staff strengths have found preferential treatment from private banks, with bank vans visiting the embassy premises to facilitate withdrawal of cash.
The Russians, who rely on State Bank of India, have not been that fortunate, leading their envoy Kadakin to write a strongly worded letter to the MEA. Other Central Asian rpublics like Kazakhstan have faced similar problems, while Pakistan's embassy had even threatened to issue notices to Indian officials serving in Islamabad if they weren't allowed to withdraw their salaries in American dollars.
In his letter to MEA, Russian envoy Kadakin has complained that embassy's normal functioning was getting affected with the "inadequate" amount of weekly limit of Rs 50,000. State Bank of India has told the embassy its cash withdrawal limit was Rs 50,000 a week. This, the bank said, was according to the Government of India directives with no exceptions unless otherwise advised by the Reserve Bank.
A Russian embassy official said they were awaiting for a reply from the MEA and hoped that the issue was resolved quickly. The official warned that Russia would be forced to explore other options, including raising the issue in Moscow by summoning senior Indian embassy officials. Moscow could even retaliate by restricting cash withdrawals for Indian diplomats posted in Russia. The Russian embassy has 200 staffers.
The MEA didn't respond to reports about Russian complaint. The dean of diplomatic corps has also raised the issue, as have Ukraine and Kazakhstan.