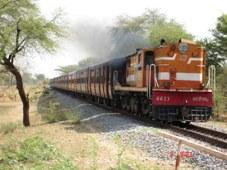 Allaying apprehension about the fate of West Bengal rail projects, Railway Minister C P Joshi on Tuesday said they would not be affected due to change of guard in Rail Bhawan.

"Whatever rail projects were announced for Bengal with financial sanction will be implemented.

"Because all these projects are of United Progressive Alliance government headed by Prime Minister Manmohan Singh," he said after meeting a West Bengal Congress delegation.

A six-member Congress delegation led by former Bengal Minister Manas Ranjan Bhunia met Joshi in New Delhi and submitted a memorandum seeking assurance on the continuation of all rail projects announced for the state.

"There is a strong campaign going on in Bengal against the Centre that all rail projects announced in the last three years will be abandoned due to change of Railway Minister.

"That is why we met Joshi to allay the apprehension
in people's mind," Bhunia told PTI.
"He (the minister) assured us that all rail projects announced with financial approval earlier would be completed in time because these are UPA projects," Bhunia said.
There are about 17 projects worth Rs 40,000 crore (Rs 400 billion) announced for Bengal during the period of Railway Ministers from Trinamool Congress -- Mamata Banerjee, Dinesh Trivedi and Mukul Roy.
The big ticket projects include an EMU coach factory at Kanchrapara, a wagon manufacturing factory at Kulti, an electric loco assembly and ancillary unit at Dankuni and East West Metro in Kolkata.
There are also several new lines projects, gauge conversion projects and doubling projects announced for Bengal during the period.
The Congress delegation invited Joshi to visit West Bengal for inaugurating some rail projects in the state.
"We invited him to inaugurate some projects like coach factory at Haldia and Howrah electrical projects," Bhunia said.