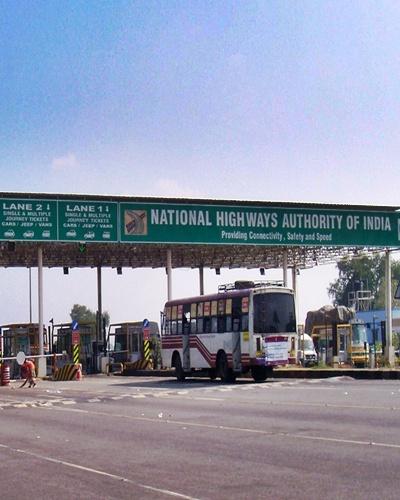 Govt initiatives have eased path to construct roads, says NHAI chief
The National Highways Authority of India plans to add around 50,000 km of road network in five to six years involving an investment of Rs 17 lakh crore (Rs 17 trillion).
Chairman Raghav Chandra said NHAI had already started work to prepare detailed project reports on 7,000 km of road projects.
He was speaking at seminar on roads sector at the Make in India Week in Mumbai on Wednesday.
"I am confident that NHAI will be able to take up 25,000 km of road projects in the next five years through its various programmes like Bharat Mala, National Highways Development Project, Seth Bharatam Pariyojana and District Connectivity," he said.
Chandra also called upon the private sector to assist the government in achieving the target.
"We want the private sector to partner us to achieve this target. It is a stupendous job and private partnership is critical.
"We want private sector assistance not only for funding but also to bring in new technology and innovation in design and also their competency in management of these roads."
Currently, nearly 240 projects were under various stages of implementation, he said.
According to data from the ministry of road, transport and highways, 3,980 km were constructed during April-December 2015, against 2,475 km in the corresponding period of the previous financial year.
he per-day construction was 15 km.
In addition to this, some projects were undertaken under the government's improving riding quality programme.
Also, the award of contracts for roads this year, at 6,353 km, was much higher than last year's 4,564 km.
Overall, contracts for 7,972 km were awarded during 2014-15, while 4,410 km were constructed during the year.
In 2013-14, 4,260 km were constructed.
According to the data, road construction during the United Progressive Alliance government had peaked in 2012-13, at 5,732 km — an average of 16 km per day.
Road construction undertaken through IRQP included an additional 2,328 km.
Further, Chandra said the government had taken a number of initiatives and resolved issues faced by the private sector.
"The most critical issue of land has now been addressed by the government.
It has now been decided that 80 per cent of the land should be available with the authority before awarding the project.
This is a very critical issue and will be a game changer for the sector," he said.
Chandra said this year alone the authority had acquired 9,000 hectares worth Rs 20,000 crore (Rs 200 billion).
According to Rohit Inamdar, senior vice-president, ICRA, "While the one-time fund infusion by NHAI for languishing road projects shows positive intent, first-charge creation has become a challenge in implementing the one-time fund infusion scheme as the exposure of existing lenders will become subordinate to funding by NHAI."
Similarly, as far as the 5/25 scheme is concerned, though deferment of loan obligation eases the pressure on cash flows during the initial years of operations, the acceptability of this scheme is in doubt, given that road projects have a finite life and the key parameters affecting revenues (viz. traffic volumes and toll rates) are beyond the control of the developer.
EASY ROUTE
Projects will involve an investment of Rs 17 lakh crore
Currently, nearly 240 projects are under various stages of implementation
3,980 km were constructed during April-December 2015, compared to 2,475 km during the corresponding period of the previous financial year
Award of contracts for 6,353 km of roads this year was much higher than last year's 4,564 km
Image: Toll Plaza at Ulundurpet on the Trichy Tollway. Photograph: Rsrikanth05/Wikimedia Commons
The image is used for representational purpose only