The Central Bureau of Investigation carried out a country wide special drive to check spurious drugs and found that fake drugs are being used for government supplied and under central government schemes.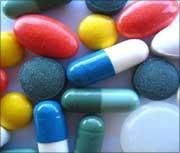 The CBI has registered six cases in Delhi, Nagpur and Chennai. All the Zones of CBI in collaboration with Central Drug Standard Control Organisation were involved in this operation in which 62 joint surprise checks were conducted.
"Six cases have been registered so far in Delhi, Nagpur and Chennai during May 12, 2010 to May 19, 2010. During surprise checks, it was found that spurious medicines are being supplied to CGHS and Government Hospitals," a CBI spokesperson said.
It was also found at many places that spurious medicines, particularly Ayurvedic medicines, are being manufactured without licence from the competent authority, he said.
"It was also found that expired medicines are being supplied to CGHS dispensaries and Government hospitals," he said.
"The drawn samples have been sent to various Regional Drug testing laboratories. Further action will be taken on receipt of these reports," he said.
In the national capital, a case was registered against Vishnu Garden based manufacturer of perfume units and his associates, including his son.
"The total worth of seizure by the CBI runs into a couple of crores and the turnover of the business of the accused persons is about Rs 5 crore (Rs 50 milion) per year," he said.
In Nagpur also, the CBI has arrested the proprietors of two drug companies in Nagpur for allegedly manufacturing adulterated and spurious medicines.
The arrests were made following searches conducted by the CBI at various pharmaceutical companies and hospitals in Mumbai, Nagpur, Pune and Bhopal from where samples of drugs were taken and sent for analysis.
"Gurbachan Singh and Navin Gadekar, proprietors of J P Herbal Pharmacy and Nalini Ayurvedic Company respectively, were arrested after it was revealed by the Drugs and Pharmaceutical Administration that the medicines were adulterated and spurious," CBI Joint Director (Western Region) Rishiraj Singh told reporters in Mumbai on Thursday.
Samples of 23 different types of medicines from 14 different manufacturing companies have been collected and sent to the laboratory for chemical analysis, Singh said.
"The medicines collected are ones used by the public for common flu, cold, fever, headache and acidity," Singh said.
Searches were also conducted at the office of the Central Government Health Scheme at suburban Sion in Mumbai.