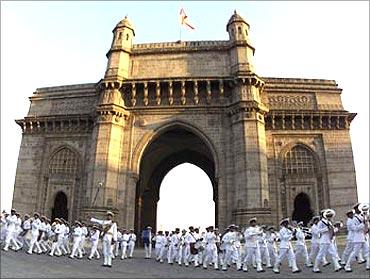 There is a need to have a 'CEO for Mumbai' in order to realise the ambition of making it a global financial centre, says a report.
"Mumbai needs a much simpler and more empowered governance framework to manage transport, land-use and housing. Potential solutions include a metropolitan coordination unit with a coordinating 'CEO for Mumbai'," the report by Global Cities Initiative, backed by foreign brokerage J P Morgan Chase and Brookings Institution, said.
Other alternatives put forth include a directly elected metropolitan Mayor, a senior state government official leading a new 'Government Office for Mumbai' and an expanded remit and coordination powers for the Mumbai Metropolitan Regional Development Authority (MMRDA), it said.
"The metropolitan area needs more empowered leadership to galvanise its complex and often 'siloed' organizational structure in pursuit of long-term goals," it added. The recommendations come in the midst of a debate over overhaul of the administrative structures in the city.
At a panel discussion held before the launch of the report on December 3, leading public intellectual Pratap Bhanu Mehta said, "I am very perturbed by this idea that Mumbai can have something like a CEO.. unelected regulatory authorities like CEOs should not take decisions that short-circuit democratic process. You get a short term boost, but there will be a logjam pretty soon."
Devendra Fadnavis, Chief Minister of Maharashtra, who counts development of infrastructure in the city among his top priorities, had announced a CEO for the city last month but was later forced to retract the same after a controversy.
The city is presently governed by a multi-layer arrangement which includes a Mayor elected from among elected corporators in the municipal body and the MMRDA under the state government to oversee large infra projects.
Pointing to contrasts in the maximum city, the report said a dynamic economy and capacity for job creation co-exist with "extreme inequality, informality and disparity" in Mumbai.
"The scale of these challenges is so great as to require urgent upgrades to institutions, planning and co-ordination across the metropolitan region," it added.
The report acknowledged that the city is functioning well as a financial services hub, but says it can become more capable as a banking centre.
It said that there is a lack of clarity within the policymakers as regards to future position of the city locally, at the national level, south Asian level as well as in the wider Asian region.
It said sectors like media, medicine, logistics, biotechnology, electronics, wholesale and services, can grow employment in specially created centres across the metropolitan region.
Even though Mumbai is not currently engaged in a discussion about making the city a world-class finance centre, the report made a pitch for getting the agenda at the fore, saying the country's ambitious growth objectives can be met by getting international firms, jobs, and capital in Mumbai.
"Although becoming a globally fluent metro may not be the top priority today, it will be essential to engage with global economic flows in the future," it said.
On housing, the report recommended simplified development procedures and re-incentivisation of the rental sector through rent control reform.