The strong correlation between its sales (revenue or turnover) and crude oil prices (average for the financial year) suggests that Ambani may be proved right.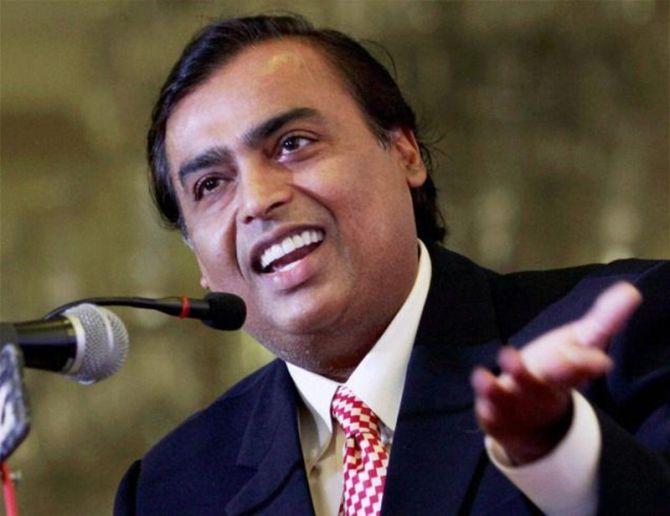 At the recent annual general meeting of shareholders, Reliance Industries' chairman Mukesh Ambani said: "As India starts on its high growth journey to double the size of its economy by 2025, I assure you (our) size will more than double in the same period."
However, the bigger message from him was the changing revenue and profit mix, as well as the desire to enhance value addition in the core petrochemicals business.
The man who has led RIL to become India's second highest valued firm, and knows its way better than anybody else does, would have done his calculations.
Doubling revenue in seven years means RIL would have to grow at a compounded annual rate (CAGR) of 10.4 per cent.
Moreover, the strong correlation between its sales (revenue or turnover) and crude oil prices (average for the financial year) also suggests Ambani could be right.
Between FY02 and FY13, when crude oil prices were on an uptrend, RIL's net sales consistently moved up, from Rs 42,100 crore in FY02 to Rs 434,500 crore in FY14.
As oil prices fell thereafter through FY16, net sales also fell -- down 37 per cent over two years to Rs 274,000 crore in FY16.
Of course, expansion of capacities and flexibility in product mix, which RIL has undertaken over these years, would have also influenced the top line.
With oil prices moving up in the past two years after multi-year lows in 2016, RIL has benefited in the form of increase in revenues.
The expanded capacities and product mix, however, ensured RIL's net profit kept consistently moving up in the past 15-16 years, except for two occasions.
Looking at the past to see how much time RIL has taken to double revenues also suggests Ambani has done his calculations.
Between FY06 and FY14, it took three to four years.
The calculations have been made by going backwards to find the approximate period the revenues doubled from.
The FY06-14 period was when oil prices were also on an uptrend. As these started falling, post FY14, it took longer for RIL to double turnover.
Now, with industry experts projecting oil at over $100 a barrel from $75-77 currently, RIL's revenue could benefit substantially.
Also, the multi-billion dollar capital expenditure undertaken to push up its refining and petrochemical capacities, as well as in telecom, are behind it.
Profit profile
The more important question is how net profit and market value will move.
Barring a few years, especially during FY12-15 when the profit trend was flat to marginal, RIL's market value has replicated the trend in its earnings.
While oil and petrochemical prices also have an influence on profit, the correlation between profit and market value has been stronger.
Here, too, post FY10, RIL took seven to eight years to double profit.
Now, with its telecom investment of over Rs 2.5 trillion is providing new revenue streams, significant profit is not far behind. In a July 6 report after RIL's AGM, Kotak Institutional Equities has estimated the telecom business' net profit would grow from Rs 700 crore in FY18 to Rs 12,100 crore in FY21 and Rs 28,400 crore in FY25 (almost 80 per cent of consolidated profits of Rs 36,000 crore for FY18).
The other significant consumer business of retailing is also growing at a healthy pace.
In a report last month, Morgan Stanley estimated RIL's consolidated net profit to grow from Rs 36,100 crore to Rs 62,300 crore by FY21.
Given the surge in telecom profit, especially after FY21, the consolidated figure should be much higher by FY25.
At the AGM, Ambani said the consumer businesses -- Jio and Retail -- represented 13 per cent of the consolidated operating earnings, up from a mere two per cent last year (FY17).
And, this increase is taking place at a time when the hydrocarbon businesses are growing rapidly.
"I can tell you with confidence that Reliance has reached an inflection point. As the Golden Decade rolls on (RIL approaches its 50th year after its initial public offer), our consumer businesses will contribute nearly as much to the overall earnings of the company as our energy and petrochemical businesses," he added.
In the coming decade, RIL is also looking to convert oil into more of value-added chemicals. All these should lend more stability and predictability to profits. Clearly, reasons for shareholders to feel excited.
In the shorter term, however, as benchmark Singapore refining margins are under pressure, analysts expect consolidated profit to be flat to marginally higher, on a sequential basis, in the first two quarters of FY19.
How fast the telecom venture rolls out further will also have a strong influence on the stock price.
Photograph: PTI Photo.