Mangalore Refinery and Petrochemicals Ltd will double offtake of crude oil from Cairn India's Rajasthan fields to 0.4 million tons this fiscal. "We bought 0.2 million tons of Rajasthan crude in 2009-10. This will increase to 0.4 million tons this fiscal," MRPL Director (Finance) LK Gupta said here.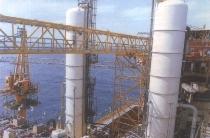 Cairn, which began crude oil production from the Mangala oilfield in the Thar desert block in late August 2009, sells crude to MRPL, Indian Oil Corp and Reliance Industries. Essar Oil has been added to the list of buyers. Gupta said MRPL's capital expenditure will treble to Rs 30 billion (Rs 3,000 crore) this fiscal as against Rs 10 billion (Rs 1,000 crore) expenditure last year.
The investment would be mostly in expansion of Mangalore refinery to 15 million tons from current 11.82 million tons. "Most of the capex would be funded through internal accruals," he said. The expansion, along with setting of new facilities like coker and polypropylene unit, would cost nearly Rs  140 billion (Rs 14,000 crore).
The refinery would be expanded by October 2011, he said. "Almost all the orders have been placed for the expansion ... We are reasonably confident that mechanical completion would happen by October 2011," he said.
 MRPL has already spent Rs 1,300 crore on the expansion project, and Gupta said the spending on this project is going to rise significantly in the current year as it nears completion. The expansion would help the company avail seven-year tax break that are to end for units commissioning after March 31, 2012. MRPL, he said, sources nearly half of its crude requirement from Iran. It also imports crude oil from other oil-rich west Asian nations on term basis. It gets 1.8 million tons of crude from ONGC's Mumbai High fields.