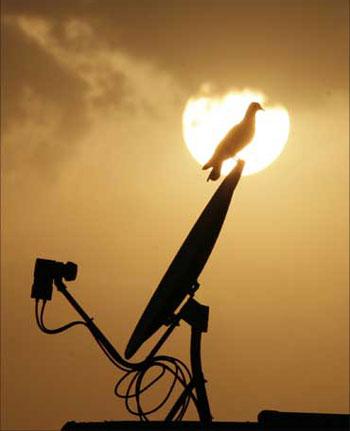 Swan Telecom promoter Shahid Balwa, who along with former Telecom Minister A Raja and 17 others are facing a money laundering case arising out of the 2G scam, on Friday moved the Supreme Court seeking setting aside of a lower court order of framing charges against him.
A bench comprising Chief Justice H L Dattu and Justice A K Sikri ordered listing of plea of Balwa for hearing on November 18.
A special court had on October 31 ordered framing of charges under the Prevention of Money Laundering Act (PMLA) against 19 persons, including Raja, DMK supremo M Karunanidhi's daughter Kanimozhi and wife Dayalu Ammal and Balwa.
It had said that there was prima facie evidence that they played roles in "parking" of illegal gratification of Rs 200 crore (Rs 2 billion) in Kalaignar TV.
As the Delhi High Court has been restrained by the apex court from entertaining any appeals arising out of trials in the 2G scam cases, Balwa, through his lawyers Shibu Shankar Mishra and Md Shahid Anwar, moved the Supreme Court seeking various relief, including grant of interim stay on the trial in the case registered by the Enforcement Directorate.
The plea contended that the alleged offences under IPC and the Prevention of Corruption Act, committed during 2007-08 and for which he, along with others, is being tried, were not part of the scheduled offences mentioned under PMLA till May 31, 2009. Hence, the penal law cannot be applied with retrospective effect, it said.
"This SLP (special leave petition) shall determine the substantial question of law concerning the fundamental rights of the accused persons, as to whether an act, committed prior to the enactment of the (amended) PMLA, can be made subject matter of a criminal trial, and as to whether the same shall be violative of Article 20 (1) of the Constitution of India, that is, being against the principles of ex post facto law," it said.
Besides Raja, Kanimozhi and Balwa, the other accused in the case are Dayalu Ammal, Vinod Goenka, Directors of Kusegaon Fruits and Vegetables Pvt Ltd Asif Balwa and Rajiv Agarwal, Kalaignar TV (KTV) MD Sharad Kumar and its Director P Amirtham and Bollywood producer Karim Morani. They all are out on bail.
Raising the legal question, the petition said, "From the perusal of the ECIR dated 09.03.2010, it can be seen that the same is in respect of offences alleged to have been committed under section 120-B IPC and section 13 (2) read with 13 (1) (d) of the Prevention of Corruption Act during 2007-08.
"It is submitted that the said ECIR itself could not have been registered, as the offences under section 13 of the PC Act and 120 (B) IPC came in the list of scheduled offences under PMLA only on June 1, 2009...There cannot be any retrospective operation of the same as the acts termed as offences have been alleged to have been committed prior to June 1, 2009."
Besides the individuals, the special court also had framed charges against nine firms in the money laundering case. The accused firms are -- Swan Telecom Pvt Ltd (STPL), Kusegaon Realty Pvt Ltd (formerly known as Kusegaon Fruits and Vegetables Pvt Ltd), Cineyug Media and Entertainment Pvt Ltd (formerly known as Cineyug Films Pvt Ltd), Kalaignar TV Pvt Ltd, Dynamix Realty, Eversmile Construction Company Pvt Ltd, Conwood Constructions and Developers (P) Ltd, DB Realty Ltd and Nihar Constructions Pvt Ltd.
ED, in its charge sheet, had alleged that all the accused were involved in the Rs 200-crore (Rs 2 billion) money transaction which was not "bonafide" and "genuine" and it was a "bribe for grant of telecom licences to DB Group companies" by Raja.