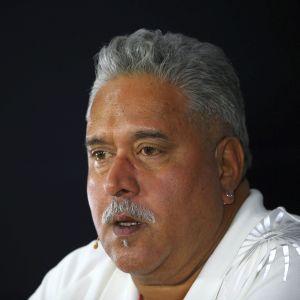 In a double-whammy for flamboyant businessman Vijay Mallya, the government has annulled his re-appointment as managing director of Kingfisher Airlines while he also had to quit from board of another group company MCFL.
This comes close on the heels of minority shareholders of United Spirits, once a prized entity of Mallya-led UB group, rejecting proposals regarding proposed financial dealings of the company with entities connected to him.
Kingfisher, which had to be grounded in October 2012 due to severe financial crunch and mounting debt, had sought the Corporate Affairs Ministry's approval for Mallya's re-appointment for a period of five-year beginning October 16, 2013 "without remuneration".
The airline said in a regulatory filing today that its application has been rejected, but did not disclose any specific reason.
Government sources, however, said that the decision was taken because Kingfisher failed to get necessary approvals from its lenders and shareholders for the re-appointment.
The disclosure came on a day, when another UB Group firm Mangalore Chemicals and Fertilizers Ltd (MCFL) announced Mallya's resignation as a director without giving any reason.
Trading in shares of Kingfisher and another group firm UB Engineering also got suspended with effect from today because of the companies' non-compliance to listing norms.
Kingfisher, which once prided itself as the most luxurious airline with Mallya being known as the 'King of Good Times', alone used to command a market value of over Rs 10,000 crore (Rs 100 billion) once, but now stands at just about Rs 100 crore (Rs 1 billion).
The overall UB group market value has tanked by over half in the past one year, while excluding United Spirits.
The penal action by stock exchanges followed the companies' inability to prepare and publish financial results in time, which the firms have attributed to lack of staff.
Kingfisher has previously faced strong staff protests for non-payment of salaries, while it is also under regulatory scanner for various accounting lapses.
As per the latest disclosures made to the stock exchanges, Mallya was serving as Chairman and Managing Director of Kingfisher, which has been without a full-time CEO ever since Sanjay Agarwal left the company early this year.
As per the norms, a company which is in the red or has inadequate profits, needs to approach the Corporate Affairs Ministry to get approval for appointment of key managerial personnel and directors and get no-objection certificates from shareholders and lenders.
The Ministry rejected the proposal in this case as it was already turned down by shareholders and lenders, sources said, while adding this particular decision was not directly linked to Mallya being declared a wilful defaulter.
The UB group, which once commanded huge market values for all its entities in businesses ranging from liquor to fertilisers to aviation, has been facing financial troubles for past couple of years and a severe cash crunch led to Kingfisher Airlines being grounded over two years ago. There are also pending service tax default cases against Kingfisher.
Default on loan payments has already seen a number of banks resorting to legal options to reclaim their funds, while some of them have also declared Mallya as a wilful defaulter.
Among various key assets, UB Group sold controlling stake in United Spirits Ltd (USL) to UK-based global liquor giant Diageo, while Mangalore Chemicals and Fertilisers (MCFL) recently saw two rival bidders slugging it out in the marketplace for getting a control of the company.
Without giving any specific reason, MCFL said in a regulatory filing today that "Vijay Mallya, a Director on the Board of Directors of the company, has resigned with immediate effect."
58-year old and Kolkata-born Mallya's resignation at MCFL followed an intense takeover battle between West Bengal-based Zuari group and Pune-based Deepak Fertilisers for wresting control of MCFL, which has a urea plant at Mangalore.
The plant has been shut since October this year due to expiry of permission given by the government for production of farm nutrient from high cost feedstock naptha.
Bangalore-headquartered UB Group Chairman Mallya had sided with Zuari group and launched the counter open offer to ward off the takeover bid of Deepak Fertilizers.
Deepak Fertilisers has raised its stake in MCFL to about 32 per cent, as against Zuari-UB group's combined stake of 38.4 per cent.
The latest developments at Kingfisher and MCFL follows decisions by USL shareholders at a November 28 meeting to reject nine out of 12 resolutions, including some pertaining to proposed pacts with entities connected to Mallya.
These pacts included those dated September 30, 2011 and December 22, 2011 between USL and and United Breweries Holdings Ltd that required UBHL to sell to USL certain immovable properties.
Other resolutions that were defeated with requisite majority include approval of a services agreement dated July 3 2013 between USL and Kingfisher Finvest India, approval of a sponsorship pact dated June 11 2013 between USL and United Racing & Bloodstock Breeders, approval of a sponsorship pact between USL and United Mohun Bagan Football Team Pvt Ltd.
USL is now controlled by Diageo, which had acquired an additional 26 per cent shares in USL for Rs 11,448.91 crore in July with an aim to take its total stake in the Indian firm to 54.78 per cent.
Liquor baron Vijay Mallya was recently re-elected as non-executive director and chairman of United Spirits.
Kingfisher Airlines is already facing a close regulatory scrutiny over suspected lapses in its accounting practices and the Corporate Affairs Ministry is looking into possible violations of Companies Act.
The carrier is yet to submit its annual financial results for the 2013-14 period to the stock exchanges.
In a filing to the BSE on August 26, the carrier had said that steps were being taken to appoint directors in order to comply with provisions of the Companies Act, 2013 and listing agreement with the stock exchanges.
"Thereafter, steps will be taken towards publishing the audited results for the year ended March 31, 2014 and for the quarter ended June 30, 2014," it had said.
Back in May, Kingfisher had informed stock exchanges that "there are hardly any employees attending office and the company is currently operating with skeletal staff making it difficult to audit and publish the results in time."
As part of the recovery process, banks in February last year decided to sell a portion of the collateral with them, including shares of its group companies USL and MCFL, Mallya's Goa villa, Kingfisher House in Mumbai and the Kingfisher brand, which was valued at over Rs 4,000 crore (Rs 40 billion) at the time it was pledged.
The total market value of UB group companies currently stands at Rs 33,000 crore (Rs 330 billion) largely because United Breweries Ltd (over Rs 20,000 crore), where Heineken group is a co-promoter.
Image: Vijay Mallya; Photograph: Getty Images