Debt-ridden and with no customers, Kingfisher Airlines Ltd posted a Rs 7.55 billion (Rs 755 crore) loss in the three months to December 31 as its planes sat idle, creditors circled and regulators rebuffed the Indian airline's revival plans.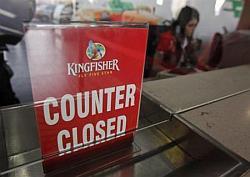 Kingfisher, which has been stripped of its flying licence, owes an estimated $2.5 billion (approximately Rs 13,300 crore) to banks, staff, airports and oil companies.

The airline, once India's second-biggest, has spent the past few months negotiating with its creditors and aviation authorities. Civil aviation minister Ajit Singh has said Kingfisher needs at least $186 million (approximately Rs 1,000 crore)
to fly again.
Shares in Kingfisher fell 2 percent on Monday ahead of the results release. Its shares have fallen 56 percent over the past year, making it the third worst-performing global airline in terms of stock price, according to Thomson Reuters Starmine.
Kingfisher, controlled by billionaire Vijay Mallya, has never posted a profit in its eight years of operations, and lost a combined Rs 33.1 billion (Rs 3,310 crore) in 2012.
(Additional reporting by Patturaja Murugaboopathy in Bangalore)