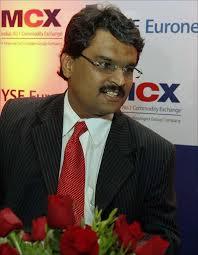 The Bombay High Court on Thursday said it will go into merits of chargesheet, proposed to be filed by police in next few days against MCX promoter Jignesh Shah, arrested in the alleged Rs 5,000 crore (Rs 50 billion) National Spot Exchange Ltd scam, before deciding on his bail plea.

Economic Offences wing of Mumbai Police, which is probing the case, told the court on Thursday saying the investigating agency intended to file chargesheet against Shah and others on or before August 4.

Justice Abhay Thipsay, who had earlier reserved order on Shah's bail petition, asked EOW to file a copy of chargesheet in a trial court and also before the high court so that he can go through it and decide on Shah's bail plea.

Accordingly, the matter has been posted to August 5 when the court would consider the material given in the chargesheet against Shah and other co-accused.

A large number of investors were present in the jam-packed court room during the hearing.

Shah has challenged the order of the trial court which on June 24 rejected his bail plea on the ground that investigation was still on and he could tamper with evidence or hamper the probe if released.

Advocates Mahesh Jethmalani and Aniket Nikam, representing Shah, argued that he had played no role in the alleged scam.

They contended that Shah's employees might have been involved, as he personally had no knowledge of what was happening.

A group of investors has also approached the court opposing bail to Shah.

As per Shah's lawyers, after his arrest on May 7, he helped the investigating agency, Mumbai police, by supplying documents and disclosing all the information he had, so there was no question of tampering with evidence.

Shah has argued that he was a non-executive director of National Stock Exchange Ltd, and was not involved in its day-to-day operations.

Shah came under the scanner of Economic Offences Wing of Mumbai police and other agencies last year when NSEL, part of the Financial Technologies (India) Limited group founded by him, faced a payment crisis as nearly 18,000 of its investors allegedly lost millions of rupees.
Image: Jignesh Shah