IT sector replaces auto sector after a 6-month gap.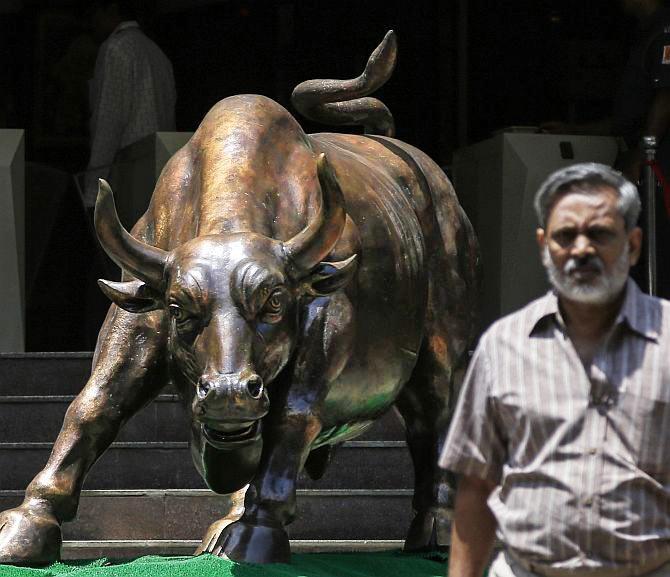 Software stocks have regained their second-most favoured status with fund managers.
This is the first time since March that fund managers have more assets deployed in information technology (IT) than in automobile stocks.
In September, Rs 43,053 crore (Rs 430.53 billion), or 10.65 per cent of total equity assets, found their way into shares of infotech majors like Infosys, Tata Consultancy Services (TCS), HCL Technologies and Tech Mahindra. On the other hand, Rs 41,239 crore (Rs 412.39 billion), or 10.2 per cent of equity assets, were held as stocks of automobile companies.
Fund managers maintain a bullish outlook for IT companies but are less positive about the automobile pack, especially two-wheeler companies. Infosys and TCS continued to be among the most invested stocks by fund managers, while only Maruti Suzuki among automobile stocks could enter the top 10 most sought after counters.
Fund managers were earlier gung-ho on the infotech sector and had allocated 15 per cent of their equity assets to software stocks in April 2014. Exposure to infotech then was only two per cent less than their all-time favourite financial stocks. At that point, their exposure to automobile stocks was less than eight per cent.
"Two stories of India over the past two decades have been infotech and health care. The large companies in these sectors are now global companies and a significant portion of their revenues come from global markets. The infotech story still has a long way to go. These companies will continue to keep growing at a reasonably healthy rate," said Pankaj Murarka, head of equities at Axis Mutual Fund.
In September, fund managers bought heavily into infotech shares. They poured nearly Rs 1,500 crore (Rs 15 billion) in two counters, Infosys and TCS. They said they were using recent corrections after results were declared as opportunities to buy more.
IT second-most favoured sector by fund managers Tata Motors was among their top picks as they bought shares worth Rs 270 crore (Rs 2.7 billion).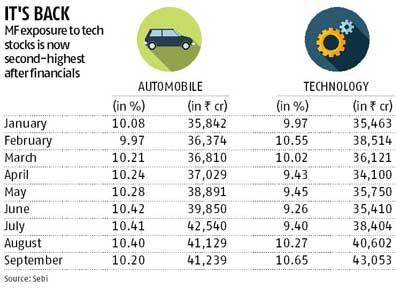 Before this, Maruti Suzuki was the priority for fund managers in this segment. The counter faced some profit booking during September as fund managers sold stocks worth Rs 290 crore (Rs 2.9 billion).
None of the two-wheeler companies, except TVS Motor, found a place among the top 30 most-sought stocks in September. Rather, the segment's top players, Hero Motocorp and Bajaj Auto, were among the most sold counters by fund managers. Their stocks worth Rs 120 crore (Rs 1.2 billion) were offloaded in September.
"The slowdown in the rural economy has the potential to make the two-wheeler space unattractive. Unlisted Honda has emerged as a challenger to Hero and Bajaj, and this will intensify as the Japanese player keeps capturing market share," said the chief investment officer of a fund house who cannot be named because his reply was to a stock-specific question.