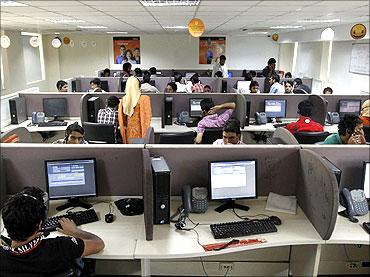 Jobs in the country's information technology sector are likely to remain stable till 2020, despite disruptive changes in global hiring patterns, says the World Economic Forum.
However, the demand for traditional IT work might decline, with strong recruitment trends expected for data analytics and cloud computing, says a research report from WEF.
"In fact, employment growth for computer and mathematical roles is expected to be least pronounced in the information and communication technology sector itself, hinting at the accelerated demand for data analysis skills and ICT literacy across, and uptake of these tools by, other industries such as media and entertainment," it said in the report, named 'Future of jobs'.
The forum said though globally about 5.1 million jobs could be lost between 2015 and 2020, due to the new trends that include rapid mobile internet growth and technology adoption, IT job demand would remain stable during the period in emerging markets such as India, due to demand for digital technologies.
For India, the report expects a decline in traditional IT jobs at 0.38 per cent annually over 2015-2020, while it expects growth in the mobility segment at 1.15 per cent in the same period, adding the overall outlook for IT jobs would remain stable.
Strong employment growth in the computer and mathematical jobs family, covering both traditional IT work and disruptive digital technology, will be driven by trends beyond technology, it says.
Such as rapid urbanisation in developing countries and by disruptions that negatively affect the employment outlook in other job families, such as office and administrative roles.
"The office and administrative job category is expected to be negatively affected by a perfect storm of technological trends that have the potential to make many of them redundant, such as mobile internet and cloud technology, data analytics and the internet of things, " it said.
Major India IT outsourcing companies such as Tata Consultancy Services, Infosys and Wipro have all said digital technology now contributes over a tenth of their total revenue. And, that they are training a significant portion of their total employee strength for digital technology services.
The image is used for representational purpose only. Photograph: Reuters