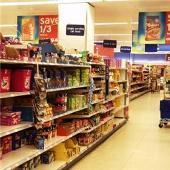 Retail price inflation for items consumed by industrial workers rose further to 13.91 per cent in May against 13.33 per cent in April, clearly showing the increasing burden on the people's pocket to buy essential commodities.
Inflation rose as essential commodities like groundnut oil, eggs, green chillies, vegetables and fruits as well as bidi and bus fares turned expensive.
In the month of May wholesale price inflation entered double digits and stood at 10.16 per cent.
The rising prices in both wholesale and retail markets is likely to prompt Reserve Bank of India to raise short-term lending and borrowing rates in its July 27 monetary quarterly review.
Inflation rose as consumer price index for industrial workers rose to two points to 172 points in May, after remaining stagnant at 170 points in the last three months.
CPI-IW is important in the sense that dearness allowance for government employees are based on this index.
During the month of May, the index recorded an increase of 6 points in Warangal, five points in Guntur, four points in Chennai, three points in 16 centres and two points in 17 centres.
However, it decreased by two points each in Yamunanagar, Puducherry, Amritsar, Ajmer, Ghaziabad and Varanasi centres and one point in six centres while it remained static at remaining centres.
The maximum increase of 6 points in Warangal centre was mainly on account of increase in the prices of mug dal, groundnut oil, eggs, green chillies, vegetables and fruits items, bidi, bus fare, repairs charges etc.
While, the increase of five points in Guntur was due to increase in prices of rice, arhar and urad dal, goat meat, vegetables and fruit items, firewood etc.
The increase of four points in Chennai centre was also due to rise in prices of rice, pulses, vegetables and fruits etc.
However, the decrease of two points in few centres was because of decrease in prices of rice, wheat, wheat flour, fish, onions, vegetables and fruits, goat meat, milk, snack saltish, cigarette, saree (synthetic), etc.
The indices in respect of the six major centres are as follows: Ahmedabad 165 points, Bangalore 182, Chennai 160, Delhi 159, Kolkata 170 and Mumbai 169.