The two governments have already set a target of increasing bilateral trade in goods and services from $100 billion at present to $500 billion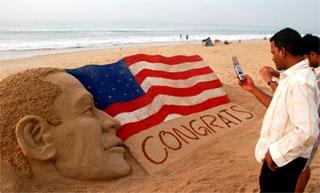 India's bilateral economic ties with the US are set to take the next big leap with the visit of Barack Obama, who is going to be the first US President to attend the Republic Day parade as chief guest. The two governments have already set a target of increasing bilateral trade in goods and services from $100 billion at present to $500 billion.
Obama is also going to be the first American President to visit India twice during his tenure; he had come to Delhi in November 2010 as well. This time, Obama's visit comes at a time when India is going through a paradigm shift in terms of economic reforms, after a government led by the Bharatiya Janata Party, widely seen as pro-business and keen to get investments across economic verticals by introducing bold reforms, taking charge at the Centre.
"Both sides will utilise this visit to leverage two-way trade between both partners. This visit by Obama comes within months of (the Indian) prime minister's hugely successful visit to their country in September. Though this visit might not yield anything fruitful immediately, it will set the right tone for years to come. This visit is very crucial in terms of the improving atmospherics and sentiment, which are very important," said a former diplomat who earlier served as India's ambassador to the US.
Since coming to power in May, Prime Minister Narendra Modi has chalked out the country's growth path by undertaking some unprecedented measures. The government has already taken steps to roll out the goods and services tax (GST), expected to bring a unified taxation system, a long-pending demand of international companies. Besides, the government has taken a number of steps to ease doing business in the country, to woo foreign investors, including those in infrastructure development, to facilitate trade by reducing bureaucratic hurdles, and to boost domestic manufacturing through the 'Make In India' programme.
Under pressure from industry, the government also took the ordinance route to amend the land acquisition Act and to increase the limit of foreign investment allowed in the country's insurance sector to 49 per cent from 26 per cent. American and European companies had been seeking such a move since the onset of a global economic slowdown in 2008.
India has always been a lucrative market for the US. It enjoys a trade surplus with that country, with its exports reaching $39.14 billion and imports standing at $22. 50 billion in 2013-14. Over the years, the US has also come to realise that it cannot rely exclusively on China to source products for its domestic industry. As a result, American conglomerates' pressure on the Indian government to undertake reforms have increased — this was during the two terms of Congress-ruled governments as well.
"The US has been keenly watching the steps taken by the new government. It now wants words to be translated into action. It is deeply interested in the India market and wants the government here to stick to its promises. It has realised its economic alliance exclusively with China (in Asia) was wrong. So, it wants India to develop, and reduce its dependence on China," said Rajiv K Bhatia, director-general, Indian Council of World Affairs (ICWA).
During his visit to the US in September last year, Prime Minister Modi had held a series of meetings with American conglomerates, such as General Electric (GE), Boeing, Goldman Sachs, IBM, BlackRock, PepsiCo, MasterCard and Kohlberg Kravis Roberts (KKR). Most of these companies had expressed significant interest in expanding their footprint here.
Modi is going to have his second bilateral meeting with Obama in the space of three months. Both leaders have also given a name to the bilateral ties — 'Chalein Saath Saath' (forward together we go).
Ironically, around this time last year, economic and bilateral ties had reached their nadir. Apart from a diplomatic row surrounding Indian Foreign Service officer Devyani Khobragade, American firms also grew bitterly vociferous in their criticism of India's trade and industrial practices.
Obama's visit comes weeks before the new government presents its first full-year Budget. American companies will be keenly watching the announcements made by Finance Minister Arun Jaitley. Those would be perceived as reflection of the government's future moves.
According to Bhatia, American companies' dissatisfaction over Indian economic policies is "gradually shrinking".
"While reservations will remain, we see a positive environment emerging. They are now keenly waiting for the next Budget and what direction the government takes," he added.
Another crucial area where both sides need to find a possible convergence is the imminent mega trade pacts — TransPacific Partnership (TPP) and Transatlantic Trade and Investment Partnership (TTIP). The US is the main protagonist in both these pacts, which together cover almost the entire global economy.
Of the two, TPP, which has US and 11 countries from the Pacific region as members, is expected to be concluded this year. India, part of South Asia, is not a member of this pact.
According to a former diplomat who has served as India's ambassador to the US and does not wish to be named, it will be significant to see how US does the balancing act and ensures the rules governing these pacts do not affect its trade with India.