Reema Shah pleaded guilty to insider trading and cooperated with the US government for accepting insider info from a Yahoo! executive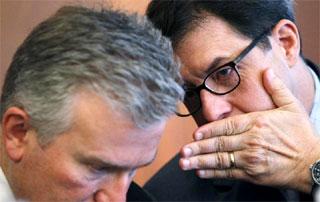 An Indian portfolio manager, who had pleaded guilty to insider trading and cooperated with the US government in its crackdown on securities fraud cases, avoided jail term and has instead been sentenced to two years' probation and a $500,000 fine.

Reema Shah, 42, had pleaded guilty in 2012 to securities fraud in connection with an insider trading scheme in which an executive with internet company Yahoo! provided her material, non-public information about the company's quarterly earnings and potential business transactions.

At the time, Shah was a portfolio manager at an asset management firm that managed billions of dollars in mutual funds and a hedge fund.

Shah had been facing a maximum of 25 years in prison and over $5 million in fines, but US District Judge John Koeltl imposed a sentence of two years probation and a $ 500,000 fine during a hearing.

Manhattan's top federal prosecutor Preet Bharara had submitted in court that Shah "provided extensive substantial assistance to the government in the investigation and prosecution of other persons who committed federal offenses".

Taking into account Shah's cooperation, Koeltl said she provided "prompt, substantial and truthful" evidence to government investigators.

In addition to the fine, Shah has been ordered to forfeit $11,750 to prosecutors - equal to the profits prosecutors say she personally made as a result of her criminal conduct - and approximately $377,000 to the US Securities and Exchange Commission to resolve parallel civil charges.

According to court documents, starting in at least January 2008 through July 2009, Yahoo! executive Robert Kwok provided confidential information concerning Yahoo's quarterly earnings and potential business transactions with other companies to Shah who then executed trades based on the inside information.

Shah however began cooperating with investigators after federal agents approached her in 2009.

Assistant US Attorney Benjamin Naftalis said Shah provided "important and useful" information about "criminal activities" at hedge fund giant SAC Capital that helped the government prosecute the Steven Cohen-led company.

SAC has pleaded guilty to securities fraud and agreed to pay $1.8 billion in penalties. The compnay has since changed its name to Point72 Asset Management.

Shah's recordings of her proactive assistance was "lengthy, extensive and remarkable successful," Naftalis said.

In court papers, the government said that Shah decided to "cooperate promptly" and assisted "proactively" in the covert investigation into insider trading from 2009 to 2010.

At the direction of the FBI, Shah secretly recorded "more than 700" telephone calls and meetings with other investment professionals whom the government suspected as being involved in illegal insider-trading activities.

She also identified about two dozen investment managers, research analysts and consultants whom she believed had engaged in insider trading.