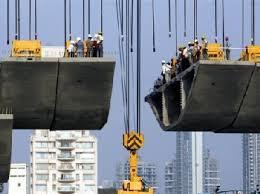 Indian developers' interest in marquee London properties seems to be rising steadily.

After Lodha Group's Rs 3,000-crore (Rs 30 billion) acquisition there recently, another Mumbai firm, Indiabulls Real Estate, on Thursday bought an iconic building in London's Mayfair for Rs 1,550 crore (Rs 15.5 billion).

The firm bought the 87,444-sq ft feet property -- 22, Hanover Square -- from Scottish Widows Investment Partnership (part of Aberdeen Asset Management), which had put the building up for sale in April through consultancy firm H2SO.

According to the deal, the acquisition cost comes to Rs 165,000 per sq ft and the total saleable value of Rs 4,500 crore (Rs 45 billion).

The firm is seen earning Rs 2,000 crore (Rs 20 billion) from the project over five years.

Indiabulls would fund the deal through internal accruals, company
sources said.
It plans to pull down the building over a three-year period and construct premium residential towers and sell the apartments for Rs 450,000 per sq ft.
Indiabulls Group Chairman Sameer Gehlaut said: "The building's location in prime Mayfair adjoining Bond Street is exceptional and Hanover Square will arguably become London's best-connected square when the new Bond Street Crossrail station opens in 2018.
"The building has huge potential for redevelopment." H2SO Co-founder John Olney said: "Free-hold assets of this quality and scale are rare in Mayfair.
"There was high investor interest in the building.
"Four parties were selected from the first round of bidding to participate in the final round. Indiabulls emerged the highest bidder in a closely-contested bidding process."
Indiabulls Real Estate, part of the Rs 20,000-crore (Rs 200-billion) Indiabulls Group, has 24 million sq ft of projects under construction.