The National Development Council has approved setting up of 14 world-class universities for innovation across the 11th and 12th plan periods on the public private partnership model.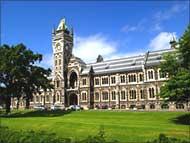 The innovation universities are part of the ministry of human resource development's (MHRD) "brain gain" policy to attract global talent and will be set up under the eleventh plan (2007-12).

The proposed universities will be set up in Bhubaneswar in Orissa, Kochi in Kerala, Amritsar in Punjab, Greater Noida in Uttar Pradesh, Patna in Bihar, Guwahati in Assam, Kolkata in West Bengal, Bhopal in Madhya Pradesh, Gandhinagar in Gujarat, Coimbatore in Tamil Nadu, Mysore in Karnataka, Pune in Maharashtra, Visakhapatnam in Andhra Pradesh and Jaipur in Rajasthan.

According to ministry, three distinct approaches are possible in establishing these Innovation Universities. First, new Innovation Universities focused on distinct issues of national importance to India and building various disciplines and fields of research around such issues.

The second approach is to identify a few among existing universities and other institutions of repute, and help these attain world class standards through innovation in chosen areas of knowledge with marginal top-up investment.

The third approach is to identify a few educational hubs (cities) in the country where institutions and universities of excellence by national standards are located, and creating the architecture of an Innovation University by building synergies for inter-disciplinarity and strong research and teaching within these institutions.