At $161 bn, corporates' forex borrowings have grown at a CAGR of 15.6% since 2008, outpacing GDP and earnings growth in dollar terms.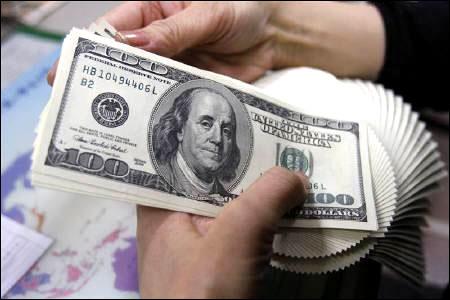 India Inc's dollar exposure continues to grow at a fast clip. At the end of September 2014, companies owed about $161 billion to foreign lenders, up nearly 10 per cent from March 2014.
In all, corporate groups borrowed an additional $14 billion in the first six months of 2014-15. The figure is expected to rise as the Reserve Bank of India approved $23.4 billion of external commercial borrowings in the first 10 months of the financial year.
In comparison, the top 1,000 non-financial listed companies had debts of 2 billion at the end of 2013-14 and foreign borrowings were nearly a quarter of India Inc's debt at the end of the past financial year.
Commercial foreign borrowings have grown at an annual rate of 15.6 per cent since the 2008 global financial crisis, outpacing India's growth in dollar terms. India's gross domestic product (GDP)grew at an annual rate of 7.2 per cent in dollar terms during the period, resulting in a rise in the foreign debt-GDP ratio.
"Anecdotal evidence suggests many companies are sitting on unhedged forex positions. They are benefitting from the relative stability of the rupee and low interest rates in the international market. They will be forced to take a hit if the US Federal Reserve raises interest rates and the currency starts depreciating," said Deep Narayan Mukherjee, director of ratings at India Ratings.
"The rupee's stability in the last 18 months has generated complacency among corporates but corrections in the external sector can be sudden and sharp," he added.
According to a recent study by India Ratings, over half the companies in the BSE 500, excluding banking and financial services, have operating structures that make them net foreign currency spenders.

These companies, which accounted for around 70 per cent of the debt of the BSE 500 companies in 2012-13, can expect a 1.3 percentage point decline in their operating margin, for every percentage point depreciation in the rupee against the dollar.
The foreign exchange exposure of companies and banks will rise if non-resident Indian (NRI) bank deposits are included.

At the end of September 2014, banks were sitting on NRI deposits worth $108.7 billion, up 54 per cent from $70.8 billion at the end of March 2014. Dollar inflows from NRIs lessen the pressure on companies for foreign borrowings, which grew only 5 per cent in 2013-14.

But as the pace of incremental NRI deposits declined in 2014-15, companies are once again borrowing directly. NRI deposits have grown at an annual rate of 16 per cent since March 2008.
"Indian companies increased their dollar borrowings in the last 18 months when the currency remained stable. The proportion of hedging has also reduced," Mukherjee said.
"As the rupee has been steady during the last couple of quarters, companies are inclined towards forex loans, ignoring the risk of depreciation. This may hurt companies that lack a natural forex hedge in their businesses such as exports," said Prabal Banerjee, president, international finance, Essar Services.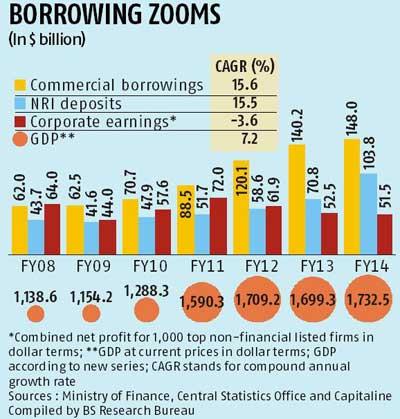 Experts said the rupee was now overvalued in real terms, raising the prospect of capital flight if the Fed raised interest rates.

"RBI has bought nearly $75 billion in the current financial year, creating a large buffer. It is now prepared to defend the rupee in case of a sudden sell-off," said a fund manager on condition of anonymity. Some of the corporate chief financial officers are also prepared for the worst.
"Rupee's volatility is hard to predict and corporates are conscious about it. It is difficult to comment for the whole industry but we are adequately hedged for such exposures," says R Shankar Raman, chief financial officer at Larsen & Toubro, which had foreign currency loans worth Rs 1,198 crore (Rs 11.98 billion) at the end of the last financial year against total debt of Rs 80,668 crore (Rs 806.68 billion).