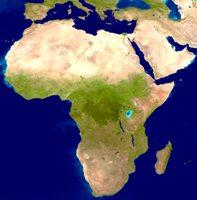 This summer it is destination Africa for India Inc.

Political leaders, industrialists and businessmen are increasingly looking to tap the resource-rich countries of the world's second largest continent even as two-way trade between India and Africa is poised to reach $70 billion by 2015 from $46 billion at present.

Prime Minister Manmohan Singh would be leading a high-powered delegation to Africa, starting May 23.

He would visit Ethiopia and Tanzania in an effort to take the Indo-African relationship to the next level by forging greater trade and investment ties.

Tanzania was the co-chair of the first India-Africa Forum Summit, held in Delhi in April. The second summit is scheduled to take place in Ethiopia, which is the seat of the 53-nation African Union.

Prior to the PM's visit, Minister of Commerce and Industry Anand Sharma would be inaugurating an 'India Show' in Addis Ababa on May 20 followed by a meeting of all the African trade ministers and a chief executive officers' conclave to enhance the partnership between India and Africa.

Sharma would also meet Ethiopian Prime Minister Meles Zenawi for strengthening bilateral trade and investment ties between both the countries.

During his two-day visit, Sharma is also expected to discuss the issue of accessing Indian markets by the African countries, including implementation of Duty Free Tariff Preferences Scheme for the least developed countries, which mainly provides reduction of duties on 85 per cent of India's tariff lines.

India is also expected to offer technical help to the African countries in the Doha round of global trade talks and in areas of dispute settlement under World Trade Organisation.

"India is interested in Africa not just because of its resources, it is also actively participating in the economic development of Africa.

"We are focusing on promoting trade, investments, health and education. There are lots of opportunities for collaboration between Indian and African businesses to grow.

"Trade between India and Africa has grown by more than 400 per cent in the past five years and is expected to grow at a rapid pace, as there is a large area of existing cooperation.

"Tatas were the first ones from India to foray into the African continent way back in the 1970s.

"Besides, India's relationship with Africa goes long back with great historical ties," said Syamal Gupta, special adviser to Tata International and chairman, Africa Council, Confederation of Indian Industry.

India's investments in Africa is estimated to be over $50 billion with vast potential of it rising further in sectors such as in infrastructure, power, agriculture, food processing and packaging, engineering and other sectors.

The value of India's total trade with the top 15 partner countries in Africa has a share of more than 90 per cent of the total trade in that continent.

Among these 15 countries, Nigeria and South Africa have the lion's share of 25.53 per cent and 21.91 per cent, respectively, according to a study by Federation of Indian Chambers of Commerce and Industry.

Private sector investments by Indian firms into Africa are estimated to be $5 billion, excluding the $10.7 billion Bharti Airtel-Zain
deal.
About 245 Indian firms have investment linkages with Africa. On the other hand, African investments to India is estimated to be $170 million cumulatively from 2000 to 2010. Some of the top investors are South Africa ($ 110 million), Morocco ($21 million), Kenya ($19 million), Seychelles ($17 million), Nigeria ($7 million), Tunisia ($ 4 million) and Ghana ($ 3million), according to CII.
The prime minister has already announced $5 billion line of credit to Africa, which has a gross domestic product of around $1.6 trillion.
Africa is home to 90 per cent of world's cobalt, 50 per cent gold, 98 per cent chromium, 70 per cent tantalite, 64 per cent manganese and 34 per cent uranium.
At present, 11 African countries are amongst the top 10 global resource countries in at least one major mineral.
"The political leadership should emphasise on creating a platform to enable business leaders of both sides to interact further in identifying the next level of opportunities of mutual interest, while incorporating business-friendly policies by their own governments," said B Muthuraman, chairman, Tata International Ltd. 
India and the South African Customs Union is currently engaged in having a preferential trade agreement. SACU consists of Botswana, Lesotho, Namibia, South Africa and Swaziland. In January this year,
Sharma held a bilateral meeting with his South African counterpart Rob Davies to scale up bilateral trade to $15 billion by 2014 from $10 billion at present.
Indian diaspora in Africa is the second largest in the world. With 2.8 million Persons of Indian Origin, South Africa, Kenya, Tanzania and Uganda account for the largest share.
Indian conglomerates, both in the public as well in the private sector, have considerable presence in some large African countries with huge investments.
These include Tata Group, Coal India, Reliance Industries, BHEL, Essar, Mahindra, Bharti Airtel, Kirloskar and Dr Reddy's.
"It is one continent where we have tremendous opportunity.
"Our business in Africa has grown in excess of Rs 100 crore (Rs 1 billion) today from Rs 40-50 crore (Rs 400-500 million) eight years back. We are present in 17 countries and almost 30 per cent of our export revenue comes from the African markets," said P K Uppal, executive director (International Operations Division), BHEL.
BHEL has around 17-20 ongoing projects in Africa across eight to nine countries, employing 3,000 people that includes Indians as well as locals.
Tata Africa Holdings has a strong presence in over 10 African countries, with investments exceeding $100 million.
The group operates in major industrial sectors such as information systems, engineering services, materials, consumer products and chemicals. Some of their major subsidiaries are Tata Zambia, Tata Holdings Mozambique, Tata Holdings Tanzania and Tata Ghana.