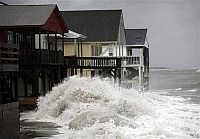 Superstorm Sandy is expected to leave a trail of destruction along its path both in terms of human and economic cost in the United States.
The storm, which made landfall on the New Jersey coast on Monday, has already left millions without electricity, flooded New York's Brooklyn-Battery tunnel, a major traffic artery, shut down New York Stock Exchange, the Port of New York and New Jersey, the subway system in New York and grounded nearly 13,000 flights.
Economic damages from Sandy, which is expected to affect some 20 per cent of the US population, could be in the range of $10 billion to $20 billion, according to EQECAT, a catastrophe-risk modelling firm, according to
The Wall Street Journal
. That compares to Hurricane Irene, which caused $10 billion in damage last year. Insured losses from Hurricane Katrina in 2005 alone topped $45 billion, adjusted for inflation, it says.
The potential damage to homes from is likely to be greater than it was last year for Hurricane Irene, says Tom Jeffrey, senior hazard scientist for real estate market watcher CoreLogic, according to
USA TODAY
. All told, nearly 284,000 residential properties valued at almost $88 billion are at risk for potential storm surge damage among the coastal Mid-Atlantic states, CoreLogic estimates.
About 50 million to 60 million people, along with trillions of dollars worth of property, are in the path of the storm.
Four major economic centres - New York, Washington, Philadelphia and Baltimore - were effectively closed, with mass transit and flights cut or halted completely, businesses shuttered and office workers forced to work from home, says
Herald Sun
.
Financial institutions such as Bank of America and Goldman Sachs - located in low-lying areas of Manhattan that were ordered evacuated in the face of a flooding threat -
shut their doors and transferred crucial operations to other offices. Many companies who had expected to announce quarterly earnings put off their release, including Pfizer, McGraw-Hill and Thomson Reuters, it says.
Hurricane Sandy ultimately may subtract 0.1 to 0.2 percentage points from US gross domestic product in the fourth quarter as spending drops on services such as restaurant meals, according to Mark Vitner, a senior economist at Wells Fargo Securities in Charlotte, North Carolina, says
Newsmax
. The economy, with annualised GDP of $13.6 trillion, expanded at a two per cent pace in the third quarter.
Boeing Co., the world's largest aerospace and defence company, suspended operations at sites in Virginia, Maryland, New Jersey and Pennsylvania and will determine plans for the remainder of the week on a day-to-day basis.
Phillips 66 shut down its refinery in Linden, New Jersey, and Hess Corp. closed a facility in Port Reading, New Jersey, says the Energy Department. Other refineries in New Jersey, Pennsylvania, and Delaware reduced output.
Exxon Mobil Corp., NuStar Energy, Phillips 66 and Hess closed energy terminals they operate in New York, Connecticut, Massachusetts, Rhode Island, New Jersey, Virginia, and Maryland, according to the Energy Department.
Sandy may cut into sales of clothing and accessories as the holiday shopping season nears, according to Oliver Chen, an analyst at Citigroup Inc. in New York, according to
Newsmax
.
The storm may reduce November same-store sales by as much as three per cent as traffic may fall 40 per cent in storm-affected areas in November's first week, which accounts for about 22 per cent of the month's sales, it says.