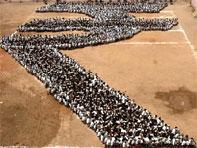 The rupee on Wednesday snapped its two days of losses and edged up two paise to end at 59.27 against the dollar following late selling of the US currency by exporters.
Persistent capital inflows and some weakness in dollar overseas also helped the rupee recover even as government data showed the country's trade gap in May hit 10-month high levels, say forex dealers.
At the Interbank Foreign Exchange (Forex) market, the rupee commenced lower at 59.32 a dollar from previous close of 59.29. It declined further to a low of 59.37 due to weakness in local equities and initial dollar demand from importers.
"On one hand, concerns surrounding Monsoon and demand for US Dollars from the central bank is applying a floor under the pair and at the same time, strong appetite for Indian assets, debt and equity is capping the upside in the US dollar," said Anindya Banerjee, currency analyst, Kotak Securities.
The rupee later recovered to a high of 59.22 on fresh dollar demand from exporters before ending at 59.27, notching up a small gain of two paise or 0.03 per cent.
"It was the second straight session where rupee started the session on a weaker note and ended it on a slightly positive note. It has been observed that USDINR pair has been taking a strong support at 59.10 on the daily chart," said Abhishek Goenka, Founder&CEO, India Forex Advisors.
India's trade deficit rose to a 10-month high of $11.23 billion in May. Trade gap, the difference between earnings from exports and outflow on account of imports, was $10.09 billion in the previous month.
Breaking four-sessions of gains, the benchmark S&P BSE Sensex today slipped 109.80 points, or 0.43 per cent. FIIs had infused Rs 682.26 crore yesterday, as per provisional data with stock exchanges.
Pramit Brahmbhatt, Veracity Group CEO, said: The trading range for the spot USD/INR pair is expected to be within 58.80 to 59.80."
The dollar index was trading marginally down against its major global rivals. Meanwhile, the premium for forward dollar declined further on continued receipts by importers.
The benchmark six-month premium payable in November moved down to 238-240 paise from overnight close of 241-243 paise. Far-forward contracts maturing in May, 2015 also dropped to 483-485 paise from 487-489 paise.
The Reserve Bank of India fixed the reference rate for dollar at 59.3250 and for the euro at 80.3200.
The rupee recovered against pound to 99.46 from 99.50 previously while dropped further to 58.15 per 100 Japanese yen from 57.94. However, it fell back slightly against the euro to 80.34 from 80.32.