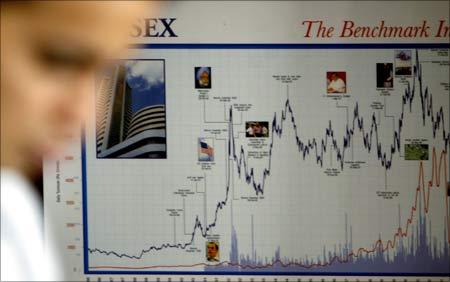 After registering losses for four straight sessions, markets closed positive in today's trade as investors accumulated quality stocks at valuable and attractive levels.
Strength in European equities further uplifted the mood at D- Street.
However, fears of an interest rate hike by the US Federal Reserve in June along with decline in crude oil prices and weakness in rupee capped the upside gains
The S&P BSE Sensex rose 75 points to end at 25,305 and the Nifty50 gained 18 points to close at 7,749.
"Nifty has made important short term top from 7,900 levels and selling pressure is being seen from there.
"On downside, Nifty has next support zone is 7,720-7,675 range and Nifty may test this support zone in coming days.
If Nifty manages to hold 7,720-7,675 zone in coming days, then recovery may also be seen from lower levels. On upside, until Nifty manages to close above 7,900 levels, upside may remain capped said Puneet Kinra, AVP:Technical Research Analyst at Bonanza Portfolio.
GLOBAL MARKET
Asian shares declined mirroring a weak finish on the Wall Street as fears of an early interest rate hike in June continue to keep the investors unnerved.
Japan's Nikkei stock index slumped 1%. Data on Monday showed Japan posted a trade surplus for the third consecutive month, and a Group of Seven finance ministers' meeting concluded on Saturday with a US warning to Japan against intervention to weaken the yen.
Among other major indices, China's Shanghai Composite and Singapore's Straits Times fell between 0.5%-1%.
However, European stocks pushed higher Tuesday as financial shares advanced. FTSE 100, CAC 40 and DAX gained nearly 1% each.
Back home, the rupee slid for the ninth day as it depreciated 16 paise more to trade at over 2-1/2 month low of 67.65 against the dollar today, hit by sustained foreign fund outflows.
STOCK TRENDS
BHEL cracked 1.5% after the Bombay Stock Exchange announced changes in the constituents of its indices as part a semi-annual reconstitution of the indices.
Power Grid Corporation of India will replace BHEL in Sensex with effect from June 20, 2016.
Meanwhile, Power Grid is down 0.5%.
ITC extended yesterday's gain and is up nearly 1% after reporting a better-than-expected performance for the quarter ended March 31, 2016.
ITC had declared a bonus issue of one share for every two shares held and has declared a final dividend of Rs 8.5 per share (including a special dividend of Rs 2 per share) for the current fiscal.
Cipla and Tech Mahindra are scheduled to post the quarterly results today. Cipla was up approximately 1% while, Tech Mahindra ended with mild losses.
Maruti Suzuki India maintained its leadership position in the domestic passenger vehicle (PV) market in April with seven of its models featuring in the top 10 selling brands last month. The stock inched up in today's trade.
India's Tata Motors is in talks with a local manufacturer in Iran to set up a joint venture for assembling its petrol cars here, as it looks to tap the fast growing market that has just emerged from sanctions. The stock was up around 2%.
Mahindra & Mahindra (M&M) has incorporated its agricultural equipment rental services arm Trringo.Com as a wholly-owned subsidiary. The stock was up 0.8%.
Tata Power's net rose sharply by 126% to Rs 360.25 crore for the quarter ended March 31, 2016, due to strong operational performance, against Rs 159.14 crore of the corresponding quarter last year.
The stock climbed over 1%.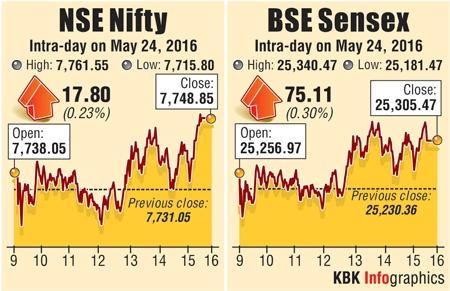 Oil and Natural Gas Corporation (ONGC) is facing a repeat of the Krishna Godavari basin fiasco in Iran, as lengthy negotiations on terms may drive it to a point where its discovered gas reserves in Farzad-B field in the Persian Gulf may be drawn out by neighbouring Saudi Arabia.
The stock was down over 1%.
Drug maker Lupin's stock extended yesterday's losses by 0.5% due to concerns over the US Food and Drug Administration's observations on its Goa plant and the likely impact on its earnings owing to a rise in expenses in FY17.
Among other shares, VRL Logistics was locked in lower circuit of 20% after the company reported 32% year-on-year decline in net profit at Rs 13.21 crore for the quarter ended March 2016 (Q4FY16).
Novartis India surged 16% after the pharmaceutical company announced that its board will meet on Thursday, May 26, 2016, to consider a proposal for buyback of the company's equity shares.
Tara Jewels tumbled 10% after the company reported consolidated net loss of Rs 5.88 crore in Q4 March 2016 compared with net profit of Rs 9.87 crore in Q4 March 2015.
Britannia Industries and Jubilant FoodWorks shares cracked 2% and 6% respectively after nearly 84% of 38 commonly available brands of pre-packaged breads including pav and buns, tested positive for potassium bromate and potassium iodate, banned in many countries as they are listed as "hazardous" for public health.