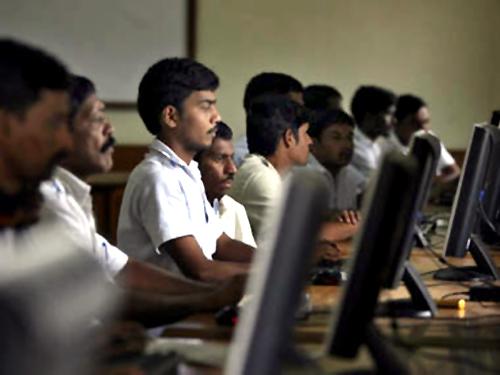 Used to HCL Technologies regularly reporting stellar growth numbers, the Street was disappointed after its revenue and profit numbers for the quarter were below expectations and lagged peers.
A day earlier, TCS had also disappointed the Street with its financials.
Anant Gupta (below left), president and chief executive, tells Surabhi Agarwal why he is not worried. Excerpts:
The Street is disappointed by the numbers. For the past two quarters, HCL, which was showing industry-leading growth, has been lagging its peers. What are the reasons?
From what we had planned, our first quarter performance is good. We had planned, we had delivered it, etc, and from that perspective, we are happy. There were no surprises.
When we compile the performance of the entire year, we will see how we fare. We are very confident on our strategy.
We have a robust pipeline which is getting booked and so we are sure of delivering industry-leading growth.
Are you seeing any softness in growth which has led to not-so-good revenues?
I don't think there is any market-related problem in this.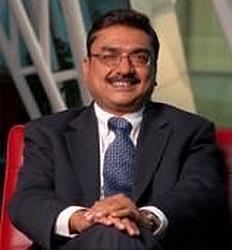 Markets are robust, there maybe bits and pieces (of variation) but, overall, it is all good.
We had planned our growth this way. If I look at application services, yes, the number of 1.8 is just about okay. Maybe there has been a slight shift towards enterprise services but that is okay.
But if you look at engineering, it has delivered more that what I had expected.
And, that will be a constant challenge we will see as digitalisation happens, since these programmes will be more end-to-end.
There could be skews here and there but it is not a big worry, according to me.
How has the client spending on technology been this year so far? What are the expectations for the second half of the year?
I don't think there has been any great shift in 2014. Going forward, I see clients putting in a little bit more money in 2015.
I think, clients which have optimised their infrastructure are moving towards some of the other areas.
Other players have not taken advantage of refreshing their technology, so they are vulnerable to failure.
So, some of those transformational agendas, technology refresh agendas, will happen.
Also, some markets will spend more, some will still need to optimise. I think financial services still has a lot to clean up.
I see a lot of consolidation activity in that space. And, as they see Gen 2.0 outsourcing, they will squeeze out more.
So, that market will not see an increase in budget but a shift from type-A to type-B work.
Energy and utilities will continue to grow. Manufacturing will put in more money. Their weight is large, although their percentages might be small. HCL's revenue growth in constant currency, excluding India, is 3.7 per cent and including it, is 3.2 per cent.
What is happening in the India market?
We wanted to show that there is absolutely no concern on our global infrastructure business.
The India business has seasonality to it; the second half is stronger than the first half.
I see HCL playing selectively in India. There will be lots of peak quarters. But there will never be a consistent quarter on quarter in India, in my view.
You will have spikes. We will continue to play selectively like before because from a margin perspective, it doesn't add much.
Currency volatility has added a significant blow to HCL's top line and bottom line. How come the company was caught unawares?
Our Europe component is a little higher. So, unlike a lot of players which only cater to the UK, we are far more exposed.
There have been lots of currencies which have been impacted.
More than that, it has been a short 10-12 days duration in which all this has happened, so there was not enough time for the Street to get a better guidance.
There is speculation that CSC is splitting its operations and HCL is likely to bid for it.
These are all rumours. We are still doing deals with them and in the marketplace. So, I don't think (it's true).