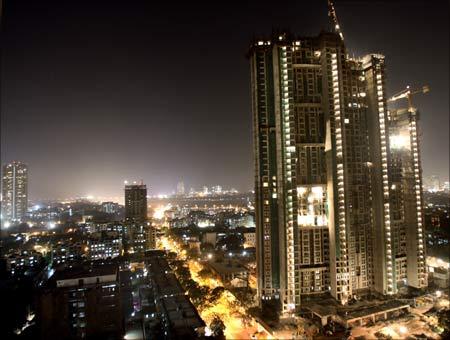 The uptick in the Mumbai property market has failed to benefit the upper end of the spectrum — luxury apartments priced above Rs 5 crore .
There are 6,048 unsold apartments — 3,662 priced between Rs 5 crore or Rs 50 million and Rs 10 crore or Rs 100 million and 2,386 above Rs 10 crore — in Mumbai till September this year, according to data collated by real estate research firm PropEquity.
A senior fund manager, who did not wish to be named, said the number of unsold flats costing Rs 10 crore and above could cross 5,000 units.
According to him, a number of projects by Lodha, Oberoi, Omkar, HBS Realtors, and others are underway in the Lower Parel-Worli area in South Central Mumbai.
Property developers usually pre-sell apartments at the launch before construction actually starts.
"Many flats have been under-construction for a long time, because there aren't enough buyers at the moment as everyone is playing a wait-and-watch game," said Ashwinder Singh, chief executive — residential services at JLL India.
According to Singh, no luxury projects were announced in the first half of the current year. "This has put pressure on an already-distressed real estate market," Singh added.
According to Amit Bhagat, chief executive of ASK Property Investment Advisors, there is limited market for these apartments. "Only if you have a net worth of Rs 30-50 crore can you buy them."
Bhagat says price discovery happens in these apartments only after delivery — when the embargo goes away, and maintenance charges and property tax kick in. This would put pressure on the investors to sell.
No takers for Mumbai luxury apartments However, developers of these luxury apartments portray a rosy picture.
According to Abhisheck Lodha, managing director of Lodha group, the company has sold Rs 1,200 crore or Rs 12 billion worth of units priced above Rs 10 crore in the first eight months of this financial year.
He expects the trend to continue. The company is developing luxury projects such as WorldTowers and TrumpTowers in South Central Mumbai.
"Consumers in this category want the very best in quality and are unwilling to compromise. When they see quality, they are happy to pay," Lodha said in an e-mailed response.
Lodha said the company disagrees with the PropEquity data because it does not take into account projects that were stopped mid-way and hence are not in the consideration set of buyers.
"Real supply of the luxury product is very limited - a leading newspaper recently reported that only four projects have been completed in the past 10 years in South and Central Mumbai."
Vikas Oberoi, chairman and managing director of Mumbai-based Oberoi Realty, agrees. "There is hardly any ready-to-move apartment available and this is the case with all developers. So where is the question over supply?"
Oberoi Realty is developing a luxury project Three Sixty West in Worli area of Mumbai, which will be managed by Ritz Carlton. The project has units priced above Rs 10 crore or Rs 100 million.
Image: There are 6,048 unsold apartments — 3,662 priced between Rs 5 crore or Rs 50 million and Rs 10 crore or Rs 100 million and 2,386 above Rs 10 crore — in Mumbai till September this year. Photograph: Reuters