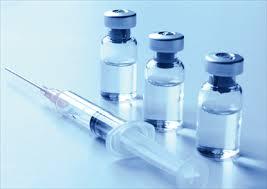 GlaxoSmithKline said on Thursday it is applying for regulatory approval for the world's first vaccine against malaria, designed for use in children in Africa.

The British drugmaker said the shot, called RTS,S, is intended exclusively for use outside the European Union but will be evaluated by the European Medicines Agency in collaboration with the World Health Organisation.

Malaria, a mosquito-borne parasitic disease, kills more than 600,000 people a year, mainly babies in the poorest parts of sub-Saharan Africa.

Experts have long hoped that scientists would be able to develop an effective vaccine against the disease, and scientists at GSK have been working on this one for 30 years.

Yet hopes that RTS,S would be the final answer to wiping out malaria were dampened when results from a final-stage trial in babies aged six to 12 weeks showed the shot provided only modest protection, reducing episodes of the disease by 30 per cent compared to immunisation with a control vaccine.

GSK said data from that and other final phase III trials -- conducted at 13 African research centres across Burkina Faso, Gabon, Ghana, Kenya, Malawi, Mozambique, Nigeria, and Tanzania - have also been included to support the application.

"An effective vaccine for use alongside other measures such as bed nets and anti-malarial medicines would represent an advance in malaria control," the company said in a statement.

The WHO has previously indicated it may recommend use of RTS,S from as early as 2015 if EMA drugs regulators back its licence application.

GSK has been developing RTS,S with the non-profit PATH Malaria Vaccine Initiative, with grant funding from the Bill & Melinda Gates Foundation to MVI.

If approved, the vaccine is unlikely to be anything other than neutral for GSK's bottom line.

The firm has promised it will be priced at cost of manufacture plus a 5 per cent margin, and the margin would be reinvested in research on malaria and other neglected tropical diseases.

"This is a key moment in GSK's 30-year journey to develop RTS,S and brings us a step closer to making available the world's first vaccine that can help protect children in Africa from malaria," Sophie Biernaux, head of GSK's malaria vaccine franchise said in the statement.
The image is used for representational purpose only