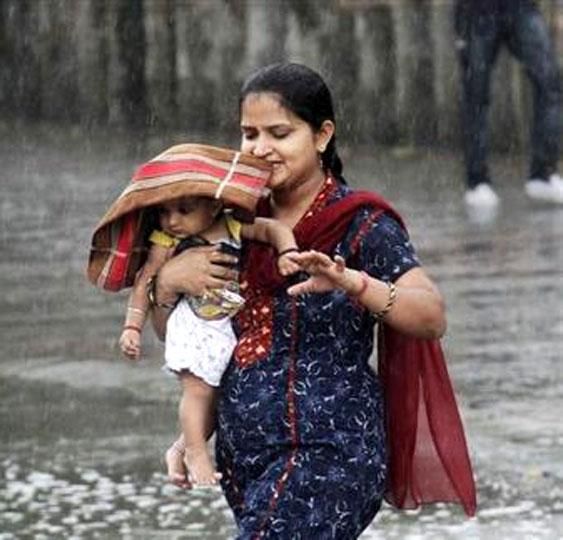 Monsoon rainfall is running at 100 per cent of normal so far
The Reserve Bank is expected to cut key interest rate by 25 basis points at its policy review meet next month if prices of pulses fall and help push down agflation, a BoA-ML report said today, even as it sees overall retail inflation in July to touch 6 per cent.
According to the global financial services major, normal rains are pushing up sowing and river waters would douse agricultural inflation (agflation) going forward.
"We continue to expect the RBI to cut 25 basis points on August 9 if good rains push up pulses cropping and dampen pulses price inflation," said the Bank of America-Merrill Lynch report.
It said, however, that retail inflation, based on Consumer Price Index, is seen at 6 per cent -- higher than the RBI's 5 per cent in March 2017 target -- because of a poor summer rabi crop.
"As monetary policy should surely be forward looking, we expect the RBI to factor in the fact that a good monsoon would damp pulses prices," it said, adding that food prices are peaking off.
Monsoon rainfall is running at 100 per cent of normal so far, much better than last year's 86 per cent and sowing has picked up to 103.3 per cent of last year.
Pulses cropping has jumped to 39.4 per cent above 2015 levels.
Moreover, rains have also pumped up river waters to 4.6 per cent above their 10-year average from below 20 per cent, the report said.
BoA-ML has cut March 2017 CPI inflation estimates to 5.1 per cent from 5.7 per cent on good rains.
The June Core CPI inflation has actually slipped to 4.8 per cent with high rates hurting growth and constricting pricing power.
Meanwhile, the wholesale inflation accelerated for the third straight month in June hitting 1.62 per cent on costlier food and manufactured items.
The hardening of the Wholesale Price Index follows an uptick in retail inflation, which hit a 22-month high of 5.77 per cent in June.
In the June policy review meet, Reserve Bank of India Governor Raghuram Rajan kept interest rates intact, citing rising inflationary pressure, but hinted at a reduction later this year if good monsoon helps ease inflation.
Image: A woman carries her child through a heavy rain shower in Chandigarh. Photograph: Ajay Verma/Reuters