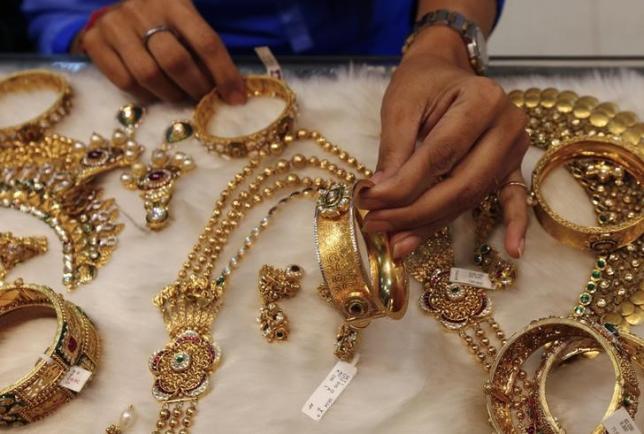 Gold bullion purchases across Asia slowed this week as a long rally in prices discouraged buyers, with traders keeping a close watch on top consumer India ahead of a festival that usually sparks strong demand for the metal.
Before dipping on Friday, spot gold had rallied the seven days through Thursday in the longest winning stretch since 2012 on a softer dollar and caution from the Federal Reserve over U.S. interest rate hikes.
"The sudden jump in gold prices has dampened demand in the Indian market," said Prithviraj Kothari, executive director of the India Bullion & Jewellers' Association.
The softness in demand comes ahead of April's Akshaya Tritaya festival, when it is considered auspicious to buy gold.
Local prices in India were either on par or at a small premium of $1 an ounce to the global benchmark on Friday, lower than premiums of up to $2.50 in mid-March.
Prices had swung to a discount of up to $5 on Thursday as global prices shot up to a 3-1/2-week high, dealers said.
Also worrying traders was a government plan that would require customers to quote their tax code for major purchases from April 1 as part of a clampdown on so-called "black money", or money earned illegally that has not been taxed.
Indian jewellers have already threatened to go on strike over the plan, which would require purchases of over 100,000 rupees ($1,597) to be accompanied by the so-called permanent account number (PAN).
"The PAN card requirement will definitely hit sales," said Bachhraj Bamalwa, director at the All India Gems and Jewellery Trade Federation.
A sharp slide in Indian demand could remove a key area of support for global gold prices.
Premiums in other Asian markets either weakened or were unchanged from early March levels. In second-biggest consumer China premiums fell to $2-$3 an ounce this week, compared with last week's $5-$6. Premiums in Hong Kong were little changed near $1.30, with dealers saying the recent price rally to $1,200 an ounce has hurt buying.
"Physical demand in Asia, which did so well to support the market when we were trading around $1,145-$1,155, is looking sparse in comparison at current levels," Alex Thorndike, senior precious metals dealer at MKS Group said this week.
Demand is unlikely to re-emerge in meaningful quantities unless prices drop to $1,170-$1,175, he said.