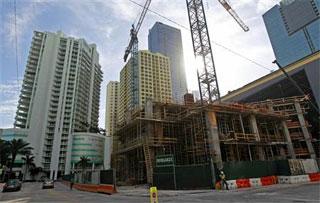 Property and equity firms from Malaysia, Singapore and other Asian countries are weighing the Indian real estate market, following the Centre's move to relax foreign investment norms in the sector.
Recently, the government had relaxed norms for foreign direct investment (FDI) into the sector, including a cut in the minimum built-up area required to 20,000 sq m from 50,000 sq m; the initial capital required was halved to $5 million.
According to norms, 100 per cent FDI is allowed in real estate projects.
Many developers have started discussions with foreign firms for possible ventures, according to two independent consultants tracking this segment.
"But the deals are likely to be struck only after 6-12 months; FDI won't start coming in immediately," said one of the consultants.
The chief executive of a leading developer based in Gurgaon confirmed his company was talking to many foreign investors for launching few projects.
"We have received a few proposals and we are evaluating those. Our only concern is foreign investors want fixed returns over a period of time, which might be difficult, considering the situation of the realty market," he said, on condition of anonymity.
Experts say the real estate sector is sitting on a huge pile of inventory, adding with low sales and a cash crunch, the FDI relaxation has come at the right time. CBRE's South Asia chairman and managing director, Anshuman Magazine, said, "The real estate and infrastructure sector is starved of funds.
This announcement will widen the base of investors, especially mid-sized financial institutions.
It will also encourage new development projects in prime areas of large cities and tier-II towns." Anuj Puri, chairman and country head, real estate consultancy firm JLL, said, "The government's decision to relax FDI rules in the construction sector comes in the nick of time for Indian real estate.
Meanwhile, developers continue to reel under high levels of debt, even as the channels of funding have shrunk. The easier rules will aid the completion of projects, delayed by a squeeze on funds due to elevated debt levels."
During 2000-2013, India's realty sector had received FDI of about $22 billion, 11 per cent of the total FDI into the country during the period.
But following a slowdown, foreign investment in the sector has slowed — from $3.1 billion in 2011-12 to $1.3 billion in 2012-13 and $1.2 billion in 2013-14. During April-August this year, $446 million has flowed into the sector.
Projects that commit at least 30 per cent of the total cost for low-cost affordable housing will be exempted from the minimum built-up area and capitalisation requirements, with a three-year lock-in period.
According to the revised norms, projects with at least 60 per cent of the floor area ratio/floor space index for units of carpet area not exceeding 60 sq m will be considered affordable housing projects.
Also, 35 per cent of the total number of units should be constructed for the economically weaker sections, with a carpet area of 21-27 sq m.