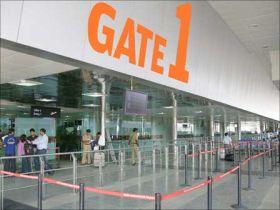 India's prevailing airport regulatory model has yielded "poor returns" for investors, global airports body Airports Council International (ACI) said on Thursday and sought its review to attract investment to develop aviation infrastructure in the country.
Asserting that transparent economic regulatory processes must be put in place in India, ACI Director General Angela Gittens said, "The current regulatory model has yielded poor returns for investors and this could stifle development of India's airports in the long run." Gittens, who met top government officials including those from the Civil Aviation Ministry here, said India needed the "right" economic regulatory framework in place to encourage the development of the much-needed airport infrastructure.
The government should "review their approach towards regulation....India really needs to think about how much economic regulation is necessary," she told reporters.
"It is outmoded to have a very prescriptive economic regulatory model," she said, giving the example of the United Kingdom which had "stepped away from such a system".
The ACI chief said the private investors came in to invest in airport infrastructure with "one set of expectations but got something different".
Asked to elaborate, Gittens gave the examples of Hyderabad and Bangalore airports where the investors expected 'dual till' to be the concept of revenue sharing but landed up with the 'single till' model. Under the single till principle airport activities - both aeronautical and commercial - are taken together to determine the level of airport charges.
By contrast, only aeronautical activities are taken into consideration under the dual till principle. Hence, airport charges derived using the single till approach are generally lower than they would under a dual till because of the sharing of profits generated by commercial activities.
Noting that a key challenge for Indian aviation was the development of airport infrastructure, Gittens said, "The right incentives should be in place. All you have to do is downsize risks. So, what is needed is a predictable, reliable regulatory regime to encourance investments in airports."
In reply to questions, she said during her discussions with aviation and other officials here, she had suggested the introduction of "the best practices in other countries and alerted them to the dangers of repeating what they did earlier". She said other countries too have faced this dilemma and "we will provide examples for the government to explore".
Aviation was a key for socio-economic development and "India should be one of the three largest aviation markets in the world. ACI wants to see India take its rightful place in the aviation world," she said.
Observing that India had full potential with a large population, a large country and a growing middle class, she said, "However, it still has a long way to go in view of the fact that other countries with similar or lower population bases handle relatively larger volumes of passenger traffic." India was not currently among the top ten countries in terms of airport passenger volume and stood at the 11th position.
In order of passenger traffic, the top ten nations are the US, China, Japan, the UK, Brazil, Germany, Spain, France, Indonesia and Turkey.
Image: Gate number 1 of the Delhi international terminal.
Photograph: Courtesy, Indira Gandhi International Airport