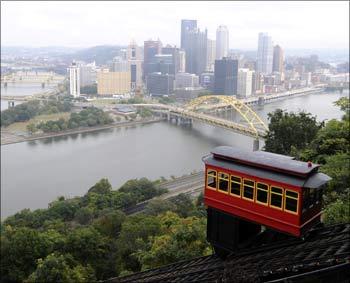 The United States is playing the perfect host, what with the third G-20 Summit being held in Pittsburgh, Pennsylvania. On Thursday evening, President Barrack Obama has invited leaders -- of the other 19 nations that form the G-20 along with the US -- for a working dinner at the Phipps Conservatory and Botanical Gardens.
Phipps Conservatory is a beautiful greenhouse made from glass and steel. The structure is in the middle of Schenley Park. When Americans pick up an issue, they certainly go the whole hog..
The conservatory is a proud example of  their 'green-building' practices, sustainable gardening and environment awareness. In Pittsburgh, residents are more enthused at talking about climate change than about 'reforms in financial arena' to get the global economy back on track.
A helpful local guide and history teacher told us that we might be asked to use laundry and air-conditioners sparingly.
*****
Not unexpectedly, the West -- particularly the US -- has a very wrong image of India and China on the issue of climate change.
Shyam Saran, Prime Minister Manmohan Singh's special envoy on climate change, who is in Pittsburgh, has said that India cannot accept any emission reduction targets in the climate change negotiations heading for a climax in Copenhagen later this year, but expressed the hope that there would be consensus on financing emission control programmes in developing countries aided by technology transfer.
New Delhi also rejected the possibility of phasing out subsidies on energy pricing saying while it was an objective it would not be implemented at the cost of poor people.
India's position was enunciated on the sidelines of the G20 Summit in Pittsburgh by Saran, who attended the just concluded conference in the United Nations and the Major Economies Forum last week in Washington.
"We will not be able to undertake emission reduction targets of the kind the developed countries are obliged to take under the United Nations Framework Convention on Climate Change. However, it is not that India is not taking mitigation action," Saran told reporters.
Saran also rejected suggestions that India was phasing demands or threats to undertake emission reduction targets. In fact, there is recognition that India was doing its best to contain carbon emissions and also taking up programmes for encouraging production of green energy through various methods.
Saran said the G20 Summit was not a negotiating forum for discussing climate change issues which is expected to be thrashed out in the Copenhagen Summit in December.
"The sole negotiating forum for climate change is the UNFCCC. Nevertheless, a strong political message from the G20 leaders that they are committed to a comprehensive, balanced and above all an equitable outcome in Copenhagen, would have favourably impact on the negotiations," the Special Envoy said.
Saran said the Major Economies Forum meeting in Washington agreed that there was need to place greater emphasis than hitherto on adaptation to climate change by developing countries for which both financial resources and technology transfers would be required.
It was also felt that emphasis should be on energy efficiency, solar energy, wind power, smart grids, carbon capture and storage and clean coal technologies.
Replying to questions whether India would undertake reduction of subsidies on energy pricing and whether a time frame could be set for that, he said while as a policy, rationalisation of energy pricing was certainly welcome, the government can't take measures that could harm the poor 400
millions of whom do not have access to energy.
Moreover, a large number of people in India still do not have access to energy, he said. Underdeveloped countries need to spend energy to develop. Any unfair restriction on carbon emissions will directly affect their development, he had argued.
Under the circumstances, it is also not possible to put curbs on fuel subsidies. India is ready to take steps to shift focus from fossil fuels to promotion of renewable sources of energy, Saran had said.
G-20 alone cannot make decisions on climate change when the issue concerns all the countries, he added.
*****
Global financial recovery and growth are at the epicentre of the issues to be discussed at the Pittsburgh Summit, but so far as the Indo-US bilateral relations are concerned, the issues of nuclear proliferation and India's firm stand on climate change are gaining importance.
India has strongly rejected efforts to impose the Nuclear Non-Proliferation Treaty on it through a UN Security Council resolution. India has made it clear that it will not sign the pact as a non-weapon state.
On both these matters, India is not ready to accept 'externally prescribed norms or standards'.
At this juncture, nobody knows what would be the final outcome at the forthcoming Copenhagen Summit. China, India and other developing countries are not forming an informal union or even a joint strategy to checkmate moves by developed countries.
On Thursday, Saran categorically stated that India would not ask its citizens, who are living on basic necessities as far as energy consumption is concerned, to curtail carbon emissions.
On the negotiating table of climate change, India is not defensive, Saran said.
When asked if India is suffering from a bad image in the West, particularly in the US, Indian Ambassador to the US Meera Shankar said, "They are looking at the issue from their country's point of view."
"India will not let its carbon emission increase more than the West," she added.
India has been telling developed countries that climate change is not a bilateral issue, but a multilateral one. India can discuss climate change with the US or with other major economies but, "these deliberations can be helpful in promoting consensus at the negotiations," Saran said. "Substantive decisions can only emerge through the multilateral process, since that is where all the stakeholders are represented."
In the coming months, the prime minister's team will have major diplomatic challenges to face. On November 24, Indo-US bilateral meet will take place, followed by the Copenhagen Summit in December wherein world leaders would sit to decide what steps need to be taken to secure the planet from the ill effects of climate change.
In view of the issues of Nuclear Non-Proliferation Treaty, Comprehensive Nuclear Test Ban Treaty (CTBT) and Fissile Material Cut off Treaty gaining momentum at the G-20 plenary summit in Pittsburgh on Friday, India will save energy to focus sharply on the bilateral meet to take place in the White House in November.
Additional inputs: PTI
Image: A view of downtown Pittsburgh from the Duquesne Incline on Mt. Washington.
Photograph: David A. DeNoma/Reuters