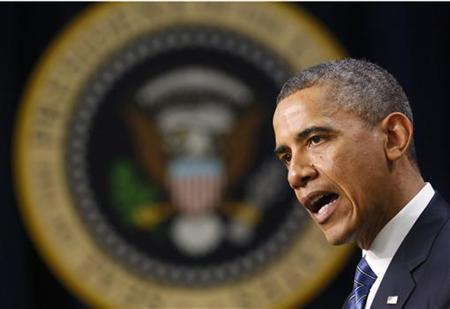 Both President Barack Obama and Republicans in the U.S. House of Representatives have made opening offers in negotiations to resolve the "fiscal cliff."
Here is a look at the two proposals, which are aimed at averting a more drastic combination of tax increases and spending cuts that economists say could cause a recession:
REPUBLICAN OFFER
House Republican leaders on Monday called for $2.2 trillion in new deficit reductions over 10 years.
When counting deficit reductions enacted last year, anticipated savings from winding down the wars in Iraq and Afghanistan and some interest savings, the package would amount to $4.6 trillion in reductions over a decade, according to House Republicans.
The offer made the following proposals to achieve $2.2 trillion in new deficit reductions over 10 years:
* $800 billion in new revenue through tax reform;
* unspecified healthcare program savings of $600 billion;
* other savings from changes to unspecified mandatory spending programs of $300 billion;
* tying cost-of-living increases for federal benefit programs to the Consumer Price Index to get savings of $200 billion;
* and further unspecified savings to domestic spending programs of $300 billion.
House Speaker John Boehner of Ohio and six other House Republican leaders made the offer on Monday in a letter to Obama.
DEMOCRATIC OFFER
The White House on Thursday proposed raising tax revenues by nearly $1.6 trillion, in line with what Obama has said is needed for long-term deficit reduction of nearly $4.4 trillion over 10 years.
The administration also sought $200 billion in economic stimulus from a combination of investments including infrastructure spending, extension of a payroll tax cut and jobless benefits.
The White House would also continue individual income tax cuts from the administration of former Republican President George W. Bush for all but the wealthiest earners.
Obama's negotiators also sought the ability to raise the nation's borrowing limit unilaterally. At present, Congress must approve an increase in the debt ceiling.
The administration's proposal would delay across-the-board spending cuts for a year. In exchange the administration agreed to make $600 billion in spending cuts to entitlement programs.

(Reporting by Richard Cowan, Kim Dixon and Kevin Drawbaugh; Editing by Fred Barbash and Vicki Allen)
Photograph: President Barack Obama; Courtesy Reuters