Not needed, it says, with 4,600 staffers to retire over next 3 years, plus transfer of 12,000 to new subsidiaries

The Union ministry of finance has turned down a proposal from loss-making Air India (AI) that it be provided Rs 1,200 crore (Rs 12 billion) to fund a Voluntary Retirement Scheme (VRS).

However, the state-owned carrier also expects its personnel to reduce by about 4,600 through normal retirement over the next three years, translating to Rs 300 crore (Rs 3 billion) of annual saving in staff costs.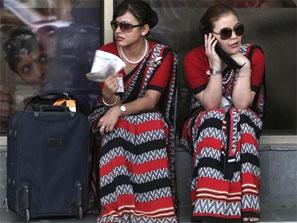 Senior government officials say the ministry had noted the expected retirements. Also, around 12,000 employees had been transferred to the airline's new ground handling and maintenance, repair & overhaul (MRO) ventures this year. The ministry, therefore, did not see any rationale in a VRS.

"Our natural attrition rate is quite high. Even without the VRS, over the next three years, around 1,500 employees would retire from service every year. As a result of this, our wage bill would come down by about Rs 300 crore every year," said a senior AI executive. The airline is projected to have around 9,500 employees by 2015-16. In the current financial year itself, staff costs are estimated to come down to Rs 3,100 crore (Rs 31 billion) from Rs 3,300 crore (Rs 33 billion) in 2012-13.

"The reduction in staff costs is not proportionate with the reduction in employee base currently because we have given pro forma promotions to 800 employees and an added 1,400 promotions in the engineering department. But with the reduction in employee base over the next three years, our employee expenses will come down substantially," the executive added.

AI, as of March, had 25,000 employees, a decrease of around 1,800 from a year before. In the current financial year (from April 1), around 6,600 were transferred to Air India Engineering Services Ltd (AIESL), a new subsidiary, and 5,300 to the new ground handling services venture, Air India Air Transport Services Ltd (AIATSL). Currently, AI has 13,000 employees.

The two wholly-owned subsidiaries, AIATSL and AIESL, were formed as part of the turnaround and financial restructuring plans. The two bodies have been functional since February.

Another executive in AI said, "We would have 9,500 employees by FY16. Due to this reduction, our aircraft to employee ratio would improve to 1:179 in 2015-16 from a peak of 1:301 in 2011-12." The former ratio includes the employees in the two new subsidiaries. If considering the staff in only the main airline body in FY16, the ratio would improve to 1:82, probably the best globally, say AI executives.

In the current financial year, the aircraft to employee ratio is projected to improve to 1:232 from 1:264 in 2012-13. Industry sources says in a leading private airline such as IndiGo, it is 1:112.

Air India had in September 2012 approved the VRS package for all permanent employees who'd served for at least 15 years or were at least 40 years of age. The scheme targeted about 5,000. However, licensed category ones such as pilots, aircraft engineers, simulator maintenance engineers, approved flight dispatchers and service engineers were not eligible, said the scheme. It had envisaged compensation of 35 days pay for each completed year of service and 25 days for each remaining year.