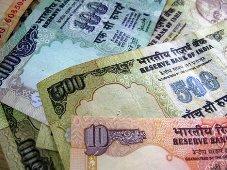 Finance secretary Sushma Nath on Saturday exuded confidence of reining in the fiscal deficit to 4.6 per cent of gross domestic product this fiscal, even though others call the target optimistic amid uncertainty over global crude prices.

"We are on the fiscal consolidation path. We don't want to occupy more space in the public borrowing, and we will stick to our fiscal deficit target and our revenue deficit target," Sushma Nath said at a CII conference here.

However, economists call the deficit target not feasible, given the current global crude oil prices.

Nath said, "Questions were raised in Parliament after the Budget was presented and also in the media, doubting the figure we have shown in the Budget.

"I must tell you we are very confident of our figures." The fiscal deficit is estimated to have come down to 5.1 per cent of GDP last fiscal against the budget estimates of 5.5 per cent.

However, the bigger worry could be the revenue deficit. The Centre seems awfully away from the revenue deficit targets suggested by the thirteenth Finance Commission.

The revenue deficit is estimated to  be 3.4 per cent of GDP last fiscal, higher than the 3.2 per cent desired by the Finance Commission. For the next financial year, the revenue deficit is estimated to be 3.4 per cent of GDP, far above the commission's suggestion of 2.3
per cent.
To meet the Finance Commission's road map, the Budget has come out with new category of effective revenue deficit, which will in fact be 2.3 per cent this fiscal against the Budget estimates of 3.5 per cent and will further come down to 1.8 per cent next year.
However, there is logic behind the government's new thinking since a part of the revenue expenditure goes into creating capital assets by states, as in Rajiv Gandhi GrameenVidyutikaran Yojana, JNNURM, etc.
As such, this part should not be included while calculating the revenue deficit.
Economic affairs secretary R Gopalan said the current inflationary pressure is a matter of 'grave concern' and termed the rising fuel prices and vagaries of Indian monsoon as challenges.
Global rates for the Indian basket of crude are hovering around $115 a barrel.
Meanwhile, Tata Steel Vice Chairman and CII Vice President Balasubramanian Muthuraman was elected as the president of the chamber and will take over from from Hari S Bhartia.