The list will be finalised after inter-ministerial discussions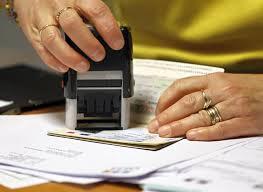 About 53 countries are being shortlisted by the tourism ministry for a second round of approvals for tourist visas on arrival.
Canada, France, the UK, Spain, China, Greece, Iran, Turkey and Kuwait are likely to be on this list. Finance Minister Arun Jaitley announced in the Budget that 150 countries would be offered the visa on arrival facility in phases.
This is in addition to 43 countries which received approval last year.
"The focus from our side is tourist arrivals.
"The 53 countries proposed in the next list include the ones with the highest number of foreign tourist arrivals in the previous years," a tourism ministry official said.
The list will be finalised after inter-ministerial discussions.
It will need approvals from the ministry of home affairs and ministry of external affairs.
No timeframe was set in the Budget for the e-visa facility, a scheme first announced by the previous United Progressive Alliance government.
Australia, Brazil, Germany, Israel, Japan, and the US are among the 43 countries cleared for visa on arrival last year.
Apart from Pakistan, Sudan, Afghanistan, Iran, Iraq, Nigeria, Sri Lanka and Somalia, all the 180 countries that host India's diplomatic missions will be eventually included in the e-visa list.
Since the introduction of the e-visa, the number of foreign tourists availing the facility has risen.
December 2014 registered a growth of 421.6 per cent with 14,083 e-visas issued as compared to 2,700 in the same month of 2013.
Similarly, January saw a growth of 1214.9 per cent with 25,023 tourists availing e-visas as compared to 1,903 during January 2014.