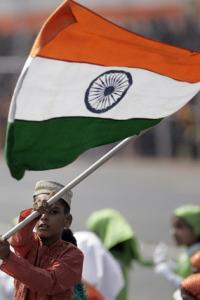 For Daya Shanker, the election campaign business of selling posters, banners, flags and badges, is no more a money-spinner, courtesy a series of strong measures taken by the election commission in poll-bound Uttarakhand.

"This business of mine has now become a financial trouble," shrugs Shanker, a hardcore Bharatiya Janata Party worker, who has put up a counter of poll knick-knacks right in the compound of the ruling party's state headquarters at Balbir Road.

No different is the case of Samir Khan. He had taken a shop on rent at Inamullah building here, so as to sell poll materials.

Like Shanker, Khan too is lamenting after having placed a huge order from Lucknow to sell poll materials.

"There are no customers. I wonder if I'd be able to make any profit this time," he says. From Congress flags depicting a beaming Sonia Gandhi to BJP posters of a grim-faced B C Khanduri in army attire, all these poll-wares are lying on the counter of Khan's shop in want of customers.

Politicians are not exhibiting courage to buy them from open market. "We are getting orders only through cell phones," points out Khan.

He has been in the business for the last several years, and knows the art of the game well to remain the front-runner
for the moolah, competition notwithstanding.
Both Khan and Shanker, like scores of other small shopkeepers in the hill state, are not happy with the poll material business.
This has happened because of the poll body's decision to adopt a multi-pronged strategy to curb money power.
The move has taken the sheen out of the multi-crore election extravaganza of the poll business.
"Hello Jenab, this is Ram Kumar. Your stock is ready," says another seller sitting in a shop in dingy bylane of Khudbada Mohalla.
Kumar had brought poll material from Delhi worth Rs 10 lakh, but has managed to tell only half of it.
"I have contacts with both leaders in the Congress and BJP. For the remaining material, I'm facing problem," adds Kumar.
As the electioneering picks up momentum, the surveillance teams of the election commission has also become more alert.
These teams have raided hotels and other public places in search of black money that usually comes during elections.
"We have very strict orders to keep a tab on the slush funds," says Radha Raturi, chief electoral officer of Uttarakhand.