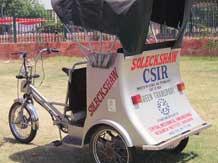 Jai Bhagwan Goel, a politician active in Delhi circles who joined the Bharatiya Janata Party in February, was instrumental in getting a significant rally convened on June 17.

In the rally, he managed to win back a cause, and vote bank, being taken over by Aam Aadmi Party Leader Arvind Kejriwal.

Goel brought together the Battery Rickshaw Association, a group of 20 importers and manufacturers of e-rickshaws, and Minister for Road Transport and Highways Nitin Gadkari, who attended the gathering with the important news of the day: e-rickshaws, battery-operated vehicles that ran at a speed of 20-22 kilometres per hour and seat four or six, functioning as cheap public transport, were out of the ambit of the Motor Vehicles Act that governed the registration, licensing and movement of vehicles.
This is a major victory for e-rickshaw makers, owners and drivers.

"It (the rally) was organised by us. Since Mr Gadkari comes from a business background, he understands our concerns", said Nitin Kapoor, vice-president of the association, an alumnus of Symbiosis, Pune, and part-owner of one of the few companies that manufacture e-rickshaws in India.

Most e-rickshaw companies import parts from China and assemble the vehicles in the country.

E-rickshaws have had a turbulent ride in Delhi since the first one was spotted in 2012.

Former chief minister Sheila Dikshit inaugurated an e-rickshaw that year, supposed to ply inside neighbourhoods.

In 2013, the number of these vehicles grew, but her government issued a notice declaring them illegal.

The vehicles continued to run, now below-the-radar.

The drivers were poor, Bihari migrants; owners of these e-rickshaw stands doubled from their role as cycle rickshaw owners.

Motor or not

At the heart of the e-rickshaw debate is that this mode of transport, unlike cycle rickshaws and cycles, has a motor.

This, and its speed, make it a category in the Motor Vehicles Act.

And that means rules pertaining to registration of these vehicles, and licensing of drivers, apply.

By putting these vehicles out of the Act, Gadkari has released them from these rules.

Rajendra Ravi, who has worked in the field of urban transport for nearly a decade, says 50 per cent of all business in India, including transport, is conducted in the unorganised sector, of which e-rickshaws are a part.

Yet, the government neglects this area.

Ravi has seen the ups and downs of the e-rickshaw politics, right from the Sheila Dikshit government.

He feels these vehicles cannot be left out of the ambit of all rules and regulation.

Bhagwan Goel, the BJP member who helped organise the e-rickshaw rally, says the association for e-rickshaws will step in to train and license drivers. Plus, the Municipal Corporation of Delhi can do the job.

"E-rickshaw drivers come from the lowest segment of society.

"I did something for them because I felt they should also feel achche din aa gaye hain (the good days are here, a popular BJP slogan)," said Goel, who heads the Rashtravadi Shiv Sena, a faction of the Shiv Sena which broke away a few years ago.

Killer roads

The e-rickshaw flip-flop typifies the utter chaos on roads in India's metros, which arises because a multiplicity of authorities are responsible for a city' traffic.

After the death of Minister Gopinath Munde in a road accident, the new BJP government woke up to India's killer roads.

Some amendments are planned in the Motor Vehicles Act.

But people such as S Rajasreekaran, a doctor who filed a PIL in the Supreme Court, rue the complete lack of accountability that people in authority have on road accidents.

"The government is quite happy to be away from it all," said Rajaseekaran, who heads the department of orthopaedic surgery in Ganga Hospital in Coimbatore.

"India has no social security.

"If you die, or are disabled in a road accident, no one is held responsible."

Every hour, about 16 accident deaths and 58 road injuries take place in India, said a study released this month by the Centre for Science and Environment.

The doctor's litigation has led to a Supreme Court committee to monitor road safety. He was aiming for a National Commission for Roads and Road Safety, a nodal body that looks at all aspects, including introduction of new vehicle categories such as e-rickshaws on already crowded city roads.

For the moment, e-rickshaws represent a business opportunity.

Kapoor, whose father is an IIT-Kanpur alumnus, says their family-owned company, Saera Electric Auto Pvt Ltd, a player in automotive parts, is one of the few companies to manufacture e-rickshaws in the country, sold under the 'Mayuri' brand, and manufactured in Gurgaon.

Of a Rs 100-crore (Rs 1-billion) turnover, around Rs 3 crore comes from the sale of e-rickshaws whenever sales hit a peak.

At least one other Indian brand, Thukral, is made in India. Its owner said he was busy and declined to be interviewed.

Kapoor expects sales numbers to go up, now that a stable policy is in place.


Does Gadkari benefit directly?

Transport Minister Nitin Gadkari, who resigned as BJP president in January 2013 following income tax queries into shell companies formed by his Purti Group, was in another controversy on Tuesday after The Indian Express alleged that Nagpur-based Purti Green Technologies Private Limited, one of the companies of the Purti Group, founded by Gadkari, and now run by his brother-in-law Rajesh Totade, was waiting to get into the manufacturing of e-rickshaws.

In the June rally, Gadkari had put e-rickshaws out of the ambit of the Motor Vehicles Act, making their operations legal.

Business Standard could not establish a link between Gadkari and Purti Green Technologies Pvt Ltd, but an October 13, 2013, Press Trust of India report filed from Nagpur that ran in Business Standard covered Gadkari announcing plans for the Purti Group, with Sharad Pawar in attendance.

Gadkari said in that meeting the Purti Group would foray into commercial LPG marketing as well as battery-operated rickshaws, aimed at doing away with conventional rickshaws which require physical labour.

"A part of the cost to buy these rickshaws would be borne by the Purti Group and the Deendayal Trust run by it," Gadkari said.

The Purti Group runs Purti Power & Sugar, an integrated plant at the Bela village, 50 km from Nagpur.

It produces sugar, alcohol, fertilisers, power, etc. It came under a sustained media attack in 2012, owing to questionable investors, who had allegedly given fake addresses.

Business Standard also established that Purti Green Technologies Pvt Ltd was one of the seven companies that has a licence to manufacture the Soleckshaw, an electric motor-assisted pedal-driven tricycle developed by government-run Council of Scientific and Industrial Research.

Amit Jyoti Banerjee, chief scientist at CSIR's Durgapur-based laboratory, the Central Mechanical Engineering Research Institute, told Business Standard his lab had developed the Soleckshaw in 2008-09. Since then, seven companies have applied and are licensed to make the Soleckshaw.

The companies include Purti Green Technologies, Nagpur.

The other six companies are Modular Machines, Faridabad; HBL Power Systems Ltd, Hyderabad; DEAN Systems, Kolkata; Stilam Automobiles Pvt Ltd, Faridabad; Lamda Microwave Technologies, Delhi; and Kinetic Motor Co Ltd, Pune.

Four companies from Uttar Pradesh have shown an interest in obtaining this licence.

Gadkari denied links with Purti Green Technologies on Tuesday.

The Press Information Bureau came out with a statement on behalf of Gadkari, saying he had "no commercial links whatsoever with the e-rickshaw manufacturing sector nor has he got any link with the Purti Green Technologies Pvt. Ltd, which, according to reports in a section of the media, has shown interest in manufacturing battery-run rickshaws."

"The production of e-rickshaw is allowed only to manufacturers who have obtained a license from CSIR.

"It is up to the CSIR to grant licence to e-rickshaw manufacturers and any firm interested in its production is free to apply for a license to the CSIR and start production," the PIB statement said.

It is clear that none of the Delhi e-rickshaws is following the technical norms that the CSIR-CMERI vehicle has.

"Soleckshaw is an eco friendly tricycle. It is driven partly by pedal and partly by electric power supplied by a battery that is charged from solar energy," said Banerjee.

In Soleckshaw, the maximum allowable motor power is below 250 watt which does not require any registration, as per RTO rules.

Chinese models are not following any such norms, said Banerjee.

The Indian Express quoted Rajesh Totade of Purti as saying the company had been waiting for exemption of e-rickshaws from the Motor Vehicles Act so that it could start making these vehicles.

Gadkari, answering a question posed by that newspaper on conflict of interest in his being transport minister, making e-rickshaws legal, and owning a company that would make e-rickshaws, said there was no monopoly on their making and all companies were welcome to come forward "so that we can get away from man-driven cycle rickshaws".

Meanwhile, the city has microcosms of e-rickshaw support clusters where batteries can be re-charged. And importers are advertising e-rickshaws on search sites such as Grotal.

Not everyone is happy with Gadkari's move. Mukesh Sharma, who heads the Ekta Cycle Rickshaw Rozgaar Association and owns cycle rickshaws, is angry that e-rickshaws are being allowed to take away livelihood from cycle rickshaw drivers.

"This is politics. Just because Arvind Kejriwal and Mr Lovely (Congress leader) were showing sympathy for e-rickshaws, Mr Gadkari got worried that they might get credit," said Sharma.

He says he is backing a petition in the Delhi High Court that questions the legality of e-rickshaws.

Policy flip-flop: Sometimes legal, sometimes not
April 2012: Sheila Dikshit, then Delhi Chief Minister, inaugurates e-rickshaws

2013: Through the year, e-rickshaws grow in the city, imported from China and assembled in small factories. E-rickshaw owners say they want political backing for their vehicles

August: Delhi government issues notice saying e-rickshaws are banned

September: Dikshit forms committee, headed by the chief secretary, to study status of e-rickshaws and come out with guidelines. No guidelines came, say experts. During the year, two cycle rickshaw associations get together and file a case against e-rickshaws in Delhi High Court. The case is being heard.

June 2014: The Aam Aadmi Party or AAP, which garnered the auto rickshaw vote in Delhi, lobbies for e-rickshaws. In competitive politics, Minister for Road Transport and Highways Nitin Gadkari of the new BJP-led government declares e-rickshaws as outside the Motor Vehicles Act, and therefore, legal. But experts say urban transport not in his ambit, but under the ministry of urban development.
The e-rickshaw market
There is no clear data on the number of e-rickshaws

200,000 is the widely reported number in Delhi, but experts such as Dinesh Mohan of IIT, Delhi, and Rajendra Ravi, who have worked in this area, say this might be an inflated number for political reasons. They, and the Battery Rickshaw Association, a group of manufacturers and importers, say around 60,000-70,000 e-rickshaws run in Delhi.

Most e-rickshaw parts are imported from China and cost roughly Rs 35,000, after import duty. It is assembled here and then a roof is put.

Battery costs Rs 22,000 and charger Rs 3,500.

The vehicle is sold at Rs 75,000-80,000.



Photograph, courtesy: Business Standard
Please click here for the Complete Coverage of Budget 2014 -15