Last year, Accenture was the top recruiter at IIM-B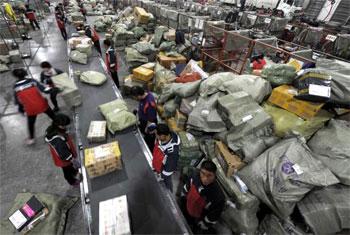 E-commerce companies, which merely registered their presence on campuses until last year, have given business schools -- even the premier ones -- a big reason to rejoice this year, by becoming one of the largest recruiters.
While these companies beat the long-ruling consulting and financial sectors at some campuses, they emerged as the second- or third-most-attractive sector at others.
At the Indian Institute of Management, Bengaluru, Amazon and Snapdeal were the biggest recruiters; they made 17 offers each.
Other prominent e-commerce recruiters this year were Flipkart, Urban Ladder, AskmeBazaar, Hopscotch, CarTrade, Proptiger, Quickr and Commonfloor.
There also was web-based taxi aggregator Ola Cabs.
In the consulting domain, the Boston Consulting Group made 16 offers, while Mckinsey and Accenture Management Consulting made 11 offers each.
Last year, Accenture was the top recruiter at IIM-B with 13 offers, and 27 per cent of the entire batch had received offers from the consulting sector.
From among the e-commerce companies, only Flipkart, Yepme and Jabong had visited the campus.
Ankur Agrawal, Placement Representative at IIM-B, says: "While the consulting firms continued to recruit in large numbers, the students were very upbeat about e-commerce firms."
Budget 2015: Complete Coverage
IIM Calcutta, which closed its placements in two-and-a-half days, saw 11 per cent of its batch getting recruited by e-commerce companies, which made 47 offers.
While only Amazon and Yepme had visited this campus last year, many others joined in this time.
Online medical practice management firm Practo, Edgeverve (an Infosys company) and Germany-based incubator firm Rocket Internet (APAC Internet Group) also rolled out offers.
Placement cell heads say the interest in these companies is understandable; e-commerce firms are flush with funds to offer attractive salaries, and students are excited about working with start-ups to learn the ropes (many even plan to give wings to their own ventures later).
In 2014, investments worth $5 billion were committed in the e-commerce space. India's e-retail market size is projected to grow to more than $90 billion in 2021, and is estimated to grow in double digits from 2016 to 2021.
Apart from these, e-commerce companies are expected to hand out the best pay raises to employees in India this year -- an average salary increase of 12.4 per cent.
Top performers, of course, might get more than double that percentage, shows a survey by Aon Hewitt, a multinational human resource consultancy firm.
"Students know the pulse of the job market.
"With the kind of funds they have raised, e-commerce companies will need talent and are ready to pay competitive salaries.
"So, students are confident about joining these companies, not only for learning but in terms of career growth," said the chairperson of one of the IIMs.
At IIM Lucknow, the e-commerce segment stormed into the top recruiters' club; it accounted for 15 per cent of all hiring on this campus. Last year, the sector was nowhere in the picture.
AT IIM Kozhikode, Snapdeal, along with Goldman Sachs, KPMG and Vodafone, was among the biggest recruiters.
All these firms rolled out more than 10 offers.
At Xavier School of Management, offers from e-commerce companies doubled over last year -- their share rose from four per cent to eight per cent.
Offers from these companies doubled at the Mumbai-based S P Jain Institute of Management and Research, too -- 23 per cent of its batch was placed in this segment. Last year, XLRI's e-commerce placements had stood at 12.7 per cent.
About 17 per cent of the students were this year placed in the consulting segment, against 23.2 per cent last year.
"One of the notable trends this year was graduates preferring Indian offers to international postings," said SPJIMR.
Bakul Dholakia, the director-general of IMI, New Delhi, said e-commerce and consulting sectors (10 per cent each) were the choice of this year's batch as on February 5.
ON A HIRING SPREE
At IIM-B, Amazon and Snapdeal, which made 17 offers each, were the biggest recruiters this year
IIM-Calcutta saw 11% of its batch getting recruited by e-commerce firms
At IIM-Lucknow, e-commerce accounted for 15% of recruitments
AT IIM-Kozhikode, Snapdeal was among the major recruiters
At Xavier School of Management, offers from e-commerce doubled this year
At the Mumbai-based SP Jain Institute of Management and Research, offers from e-commerce companies doubled; 23% of its batch was placed at firms in this segment