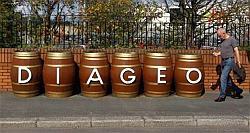 It's a deal six years in the making.

However, even after finalising the multi-pronged cross-border Rs 11,165-crore (Rs 111.65 billion) deal in November 2012, Diageo's wait for acquiring a decent stake in India's leading whisky maker, United Spirits, seems to be getting longer and longer.

Diageo's open offer to acquire 26 per cent or close to 38 million shares at Rs 1,440 apiece in United Spirits has, on expected lines, fallen flat.

It is understood that only 65,000 shares were tendered in, given the fact the stock is ruling at Rs 2,077 a share, a premium of around 44 per cent over the offer price.

The open offer closed for subscription on April 26. However, there was no official confirmation on the tendered shares from J M Financial, who is managing the offer on behalf of Diageo.

According to information available, the next step will be the 10 per cent preferential allotment, which the UB Group promoters will be making in favour of Diageo.

This has to be completed within 15 days of the closure of the open offer process (by paying out for the shares tendered), which should close by May 30.

"We do not see any delay in this process... In fact, it will happen much before the deadline," a senior management official at UB Group told Business Standard.

However, Diageo's move to acquire shares from UB Holdings, the holding company of UB group, and purchase treasury stock from various Trusts may be delayed, because of the protracted legal proceedings in the Karnataka high court over the winding-up
petitions against UB Holdings filed by aircraft lessors and other unsecured creditors to Kingfisher Airlines.
"Technically, these should not affect the transaction with Diageo, but it is better if the legal issues are sorted out," said the senior UB Group official.
The official added the move by a consortium of lenders to Kingfisher Airlines, led by the State Bank of India, to offload pledged shares of United Spirits will leave the promoters at 11 per cent holding after the Diageo deal, instead of 13.4 per cent as planned earlier, while Diageo will hold 27.4 per cent in United Spirits.
"We are discussing with a host of stakeholders in good faith. Given the fact that there will be cash inflow as part of the Diageo deal, we are looking at closing the deal by June 2013," the UB Group official added.
It is understood that the next hearing of the winding petitions in the Karnataka High Court will be on May 3, 2013.
The UB Group management had earlier submitted to the court that they were willing to furnish a guarantee of Rs 100 crore to move away from the winding-up petitions, claiming they would settle with the aircraft lessors upon finalising the stake sale to Diageo.