Moreover, Assocham warned that the phenomenon is likely to hurt Brand India and impact the country's tourism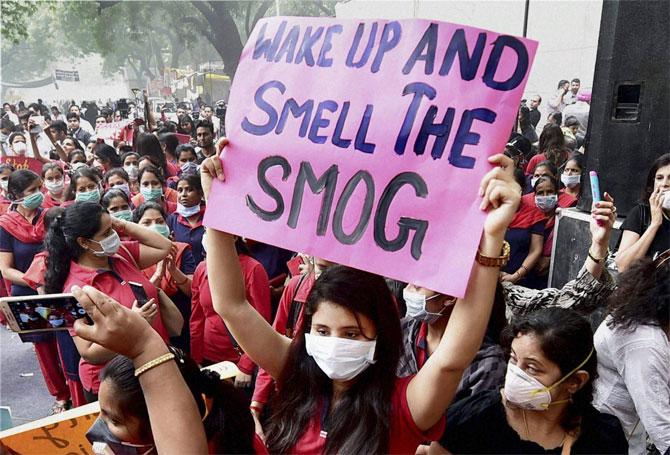 In the backdrop of alarming pollution levels choking Delhi-NCR, a growing number of employees have been calling in sick, leading to a 5-10 per cent staff crunch across firms operating in the region, according to a report.
A survey conducted by Assocham over the last one week revealed that the persistent smog across Delhi-NCR has started taking a toll on employees' health and is hampering their ability to do their duties efficiently.
Moreover, it warned that the phenomenon is likely to hurt Brand India and impact the country's tourism.
"Environment and air pollution related issues might hurt Brand India and hit sectors like tourism and outdoor recreation as people tend to stay away from polluted areas," Assocham secretary general D S Rawat said.
The social development arm of the industry chamber interacted with human resource professionals in about 150 companies operating in and around Delhi to evaluate the impact of air pollution.
Most of the HR professionals said that they are facing a staff crunch ranging between 5 and 10 per cent with a growing number of employees calling in sick.
Persistent cough, burning eyes, itchy throat and respiratory/lung-related problems like asthma and bronchitis are the main reasons as to why many employees are not turning up for work, said several HR representatives.
Many private firms are also allowing their employees to work from home while recuperating from their illness, the survey noted.
It said particulate matter, which can seep into buildings through windows and vents, is the most harmful for office workers as it can enter the blood stream and central nervous system, affecting concentration and mental performance.
Rawat said that companies should offer employees flexible working hours to cope with the problem.
Photograph: PTI Photo