Etisalat's cup of woes is brimming over. The DB group, Etisalat's partner in India, on Monday moved the Company Law Board (CLB) against the UAE-based company.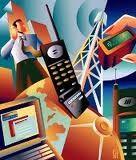 In a filing before the Mumbai bench of CLB, the DB group accused Etisalat of operational mismanagement and delay in rolling out services. The complaint has been filed by a DB group promoter company, Majestic Infracom.

Majestic alleged that Etisalat did not fulfil the obligations which were agreed upon when the venture was formed.

While DB Realty officials declined to answer any queries, saying the complaint had been filed by a promoter group company, an e-mailed query to Etisalat DB remained unanswered.

This is the second telecom venture whose partners have picked up a fight. Telenor and Unitech are already battling over the former's plan to go ahead with a rights issue for their joint venture company.

For Etisalat DB, this is a double blow, as it comes just three days after the Enforcement Directorate (ED) fined it a massive Rs 7,100 crore (Rs 71 billion) for violations of foreign direct investment norms.

ED said Etisalat DB broke the law that a foreign entity's investment in a telecom company should be approved by the Foreign Investment Promotion Board when it crosses 49
per cent. The company has been asked to clarify its stance or pay the fine.
Etisalat is also embroiled in the 2G scam on multiple accounts, one of them being the irregular allotment of telecom licences in 2008.
These licences were bagged by the DB group, which later sold a 45 per cent stake to Etisalat for $900 million (Rs 3,987 crore).
Etisalat DB, which was earlier called Swan, was also alleged to be a front for the Anil Dhirubhai Ambani group. A telecom company cannot have more than 10 per cent stake in another operator in the same circle.
Etisalat DB has 1.3 million subscribers in 15 circles. Its market share is 0.15 per cent.
"The proceedings served on Etisalat DB today by Majestic and Shahid Balwa are wholly baseless. This is a cynical tactical move by parties charged with major corruption offences to shift attention away from their own situation and to disrupt the proper running of Etisalat DB to the detriment of its shareholders and customers," Etisalat said in an emailed statement.
Majestic Infracon, a company controlled by Balwa and Vinod Goenka, owned some 45.73 per cent of Etisalat DB while Etisalat owned 44.73 per cent.