After being underweight on domestic agrochemical companies and preferring global plays, brokerages believe that the former may perform better in the quarters ahead.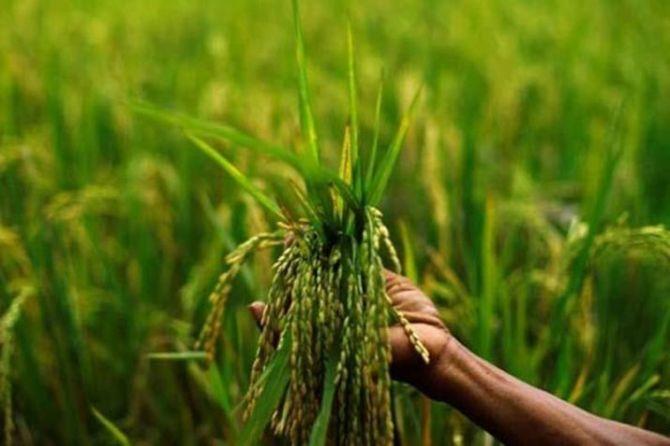 Domestic crop protection companies have faced multiple headwinds over the past year and a half, given high inventory costs, pricing pressures, lower realisations in the generic segment, increased stocks due to lower infestations, and demand-led hits to volumes.
Some of the overhang from previous quarters was reflected in the April-June quarter (first quarter, or Q1) of 2023-24 (FY24) as well, with aggregate revenues and operating profit for the sector down 12 per cent and 27 per cent, respectively.
Nuvama Research believes that a poor start to the monsoons, the initial fear of El Niño, falling raw material prices, and dumping from China, which added pressure on end-product realisation, led to inventory destocking by trade and liquidation of high-cost inventory.
As a result, this led to losses and margin pressures.
Rohan Gupta of the brokerage prefers domestic agri-business companies.
"We believe domestic agri-input players will witness a significant pick-up in subsequent quarters, led by a pick-up in the monsoon in July and August.
"With the bottoming of input prices, we expect margins to witness gradual expansion," he adds.
Kotak Institutional Equities also expects India to fare better, with the recovery in global markets happening at a gradual pace.
"Looking ahead, the Indian agrochemical market may outperform overseas markets in the second quarter (Q2) of FY24, even as a break in monsoon rainfall in August–September remains a key risk," say analysts of the brokerage, led by Abhijit Akella.
The global agricultural input segment remains worse off than the domestic market, with multinational agrochemical majors downgrading their revenue guidance for the calendar year 2023 (CY23).
Germany's Bayer AG has cut its CY23 revenue guidance (in May) from 1.5 per cent growth to a fall of 5 per cent (in August) for its crop protection business due to a sales decline in glyphosate, a broad-spectrum herbicide.
Sales of the herbicide were down 61 per cent for Bayer AG in the June quarter due to pricing issues, retail channel destocking of inventory, and reduced demand due to dry weather in key markets.
US-headquartered FMC Corporation believes that there could be volume pressures in the second half of CY23 due to channel destocking as higher inventory costs and a wait-and-watch approach lead to ordering delays.
The company expects the global crop protection market to fall by high single digits or low double digits in CY23, up from the previous estimate of a low single-digit drop.
Another US-based agri-major, Corteva Agriscience, has downgraded its CY23 outlook (and lowered its revenue growth guidance) due to lower volumes in the North American market and purchase delays because of the drought situation in Latin America.
The second half of CY23 is expected to be muted, with a recovery in calendar year 2024.
Among Indian companies (UPL, Anupam Rasayan, and Rallis), the international business also remained challenging due to inventory build-up and pricing pressure on major generic active ingredients, observes IIFL Research.
While PI Industries' custom synthesis and manufacturing business reported strong revenue growth, management remained cautiously optimistic as the end-user industry faces global headwinds, says the brokerage.
Among pure-play exporters, Sharda Cropchem reported the sharpest declines in sales and gross profit of 23 per cent and 73 per cent, respectively.
The company was the only crop care company to post a loss at the operating level of Rs 69 crore.
The weak global outlook is also reflected in stock prices.
While the UPL stock recently hit its 52-week low and is down 16 per cent from its highs in June, Sharda Cropchem has shed a quarter of its value from its highs in July.
In Q1, domestic crop protection revenues for PI, UPL, BASF, and Rallis were under pressure.
With rainfall improving, sowing has picked up in Q2 and should trigger agrochemical liquidation and consumption.
Given the muted global outlook, Nuvama Research advises investors to avoid global players such as UPL and Sharda Cropchem.
It expects agrochemicals to post healthy demand growth of 15 per cent or more in FY24, along with margin expansion.
The brokerage prefers domestic agritech players — Dhanuka Agritech and Coromandel International.
---
Disclaimer: This article is meant for information purposes only. This article and information do not constitute a distribution, an endorsement, an investment advice, an offer to buy or sell or the solicitation of an offer to buy or sell any securities/schemes or any other financial products/investment products mentioned in this article to influence the opinion or behaviour of the investors/recipients.
Any use of the information/any investment and investment related decisions of the investors/recipients are at their sole discretion and risk. Any advice herein is made on a general basis and does not take into account the specific investment objectives of the specific person or group of persons. Opinions expressed herein are subject to change without notice.