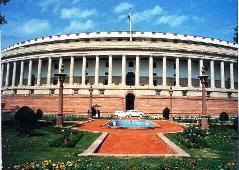 Communist Party of India (Marxist) on Sunday challenged the government to put the foreign direct investment issue to vote in Parliament if it thinks it is so important for the country and said it will be the central topic in the coming Winter Session.

As Prime Minister Manmohan Singh and Congress chief Sonia Gandhi launched an attack on parties opposing FDI in retail and other measures, CPI(M) general secretary Prakash Karat said FDI will be the central issue in the coming session.

"It
is not a question of no confidence. On FDI, there should be a vote", he said when asked whether the opposition will bring no-confidence motion in Parliament.
"We will challenge the government that if this decision is so important for the country then it should be passed in
Parliament. Let there be a vote.
"The whole opposition in unison will state that this decision should get Parliament's approval," he said.
On Gandhi's charge that the opposition was against development policies, he alleged that Congress was speaking in favour of multinationals like Walmart.