Encouraged by the arrival of vaccines, companies are taking a technology-backed calibrated approach to speed up employees' return to the workplace while maintaining social distancing.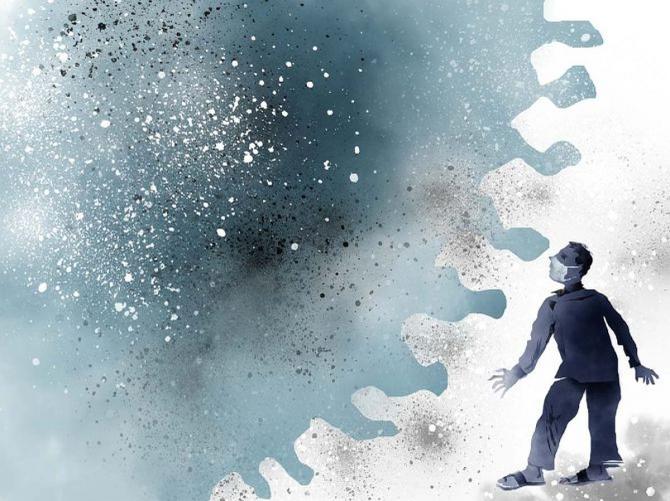 After a year of WFH, we are now cautiously entering a back-to-office phase, encouraged by the arrival of vaccines.
Well aware that the danger isn't behind us yet, India Inc is taking no chances with employee safety, even as companies are gradually facilitating their return.
Tata Motors, like several other companies, is taking a calibrated approach.
Since February 1, its employees have been coming to office once a week on rotation.
"We have to first book our seat through an app to ensure social distancing and so that people count on each floor is maintained," says an employee.
The South Mumbai-headquartered Mahindra Group, meanwhile, is not encouraging face-time in office.
"Being in office is entirely voluntary," says a source.
Company after company is expecting a hybrid working model (WFH plus WFO) to be the new default — "including for the leadership team," says Amitav Mukerji, head, corporate human resources, ITC.
Employees with co-morbidities or those travelling by public transport have been excluded from the roster.
One model that Genpact is looking at deploying in the midterm is a 90 per cent remote workforce, with the ability to come into the office for trainings, team-building, and strategic meetings.
"This will allow us to reap the benefits of a remote workforce (less absenteeism, boost in productivity, lower IT/facilities costs), while keeping our employees connected," says Darren Saumur, global operating officer, Genpact.
While TCS, too, has extended remote working facility till the end of June 2021, "we encourage our associates to get vaccinated," says Sathya Narayana Mehta, global head-policies & talent transformation, adding that the choice would be left to the individual.
Employee vaccination is, in fact, on the minds of many.
Of the multiple layers of protection against Covid-19 that Noida-based HCL Technologies is focusing on, vaccination is the primary one.
But "getting vaccinated will be a voluntary decision," says Apparao VV, chief human resources officer, HCL.
While Infosys, too, is encouraging eligible employees to enroll for vaccination "we are not mandating it as a requirement for entry to our offices," says Richard Lobo, executive vice-president, head HR.
Tech Mahindra, which expects 25-30 per cent of its associates to continue working from home, is aiming to create a touchless workplace, leveraging digital tools, including a facial recognition system for attendance and "Book My Seat" application, which will automatically ensure social distancing.
It has also launched a Covid-19 screening solution called Mhealthy, says Harshvendra Soin, global chief people officer and head-marketing.
Vistara, which has scaled up employee presence from 33 per cent to 50 per cent since the last week of February, is encouraging employees to use digital conferencing facilities.
Like everywhere, safety protocols such as "hot-desking, deep cleaning, air purifiers, foot and elbow-operated doors are in place to boost employee confidence," says Yuvaraj Srivastava, group chief HR officer at MakeMyTrip.
A Mumbai-based multinational pharmaceutical company has, meanwhile, done away with access control doors inside office and staff is allowed in only after management's permission.
To make tracking easier in the event of an infection, people are strictly assigned cabins.
The firm is also evaluating who needs to be physically present and who doesn't.
Sunteck Realty, too, is calling in only those departments that need to be in office, says chairman Kamal Khetan.
Flexible roster continues at TVS Motor Comp­any as well.
And British multinational GSK Pharma has decided to follow respective state norms on office attendance (currently, around 30 per cent in Mumbai).
GSK had spoken with Serum Institute to understand how vaccines may be procured for its employees.
Nippon India Mutual Fund is also contemplating vaccine acquisition for its employees and their families.
Meanwhile, it has launched 'COVID Commando' handbook "highlighting precautions to be followed in office, in travel and at home," says Rajesh Derhgawen, chief human resources officer.
And it is staying with its flexi-work system for now.
As is Cognizant India, which intends to cover the vaccination cost of its over 200,000 full-time employees, their dependents and 50,000-odd contingent staff and their families, says Chairman and MD Rajesh Nambiar.
Besides vaccinating those who currently qualify for it, Niranjan Hiranandani, founder and MD of Hiranandani Group, says work spaces have been renovated to meet the requirements of the "new normal".
At Titan Company's lush green corporate campus in Bengaluru, the daily health of employees, their families and visitors is captured on an app.
"Currently, close to 50 per cent of our workforce is working from office on a weekly rotational basis," says Priya Mathilakath, HR, Retail and Corporate, adding that the firm is confident of returning to full strength later this year.
Some like Torrent Group are already back to the old normal.
At Bajaj Allianz Life Insurance, agile, QR code-based rostering remains the mantra, says Santanu Banerjee, chief HR officer. HDFC managing director Renu Sud Karnad reflects the dominant view: "Lot of jobs can be done from home, provided we can measure people's efficiency. We intend to do that."
---
Shally Seth Mohile, Ishita Ayan Dutt, Shivani Shinde, Samreen Ahmad, Sohini Das, Neha Alawadhi, Aneesh Phadnis, Samie Modak, T E Narasimhan, Raghavendra Kamath, Abhijit Lele, Subrata Panda & Chirag Madia contributed to this report