Besides the manufacturing industry, voices in favouring the need for protectionism have also been heard from local start-ups, which at times find it tough to compete with global players that entered India with deep pockets.
Illustration: Uttam Ghosh/Rediff.com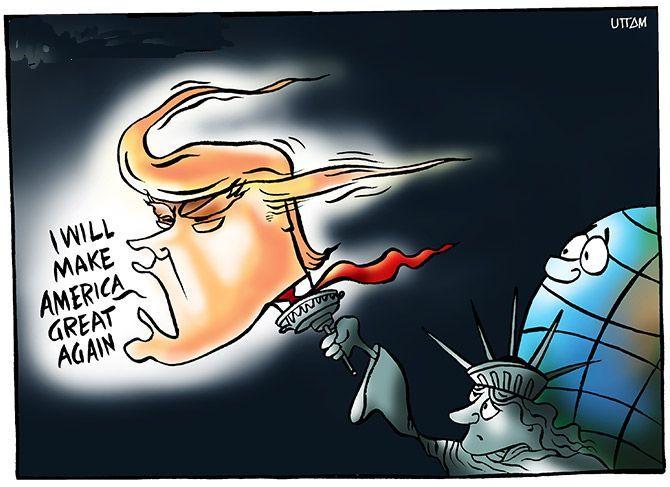 Seeds of a second Bombay Club, more than two decades after the first such club was active, are getting planted in the Indian industry.
American President Donald Trump's move to protect his domestic industry by raising import barriers has added fuel to India Inc's concerns on threats from unfair global competition.
Leading industrialists are openly voicing their concerns, especially on threats from China.
The first Bombay Club came into being after the economy was liberalised in 1991 and the floodgates were thrown open to multinationals.
Top Indian businessmen argued that these international companies were much ahead of them in production efficiencies, technology and financial prowess.
Import duties were being brought down sharply without a corresponding reform in domestic taxes.
In November 1993, eight industrialists - Lala Bharat Ram, Lalit Mohan Thapar, Hari Shankar Singhania, M V Arunachalam, B K Modi, C K Birla, Rahul Bajaj and Jamshyd Godrej - handed over a note to this effect to Manmohan Singh, the then finance minister and sought a level-playing field in the new era that had emerged.
Bajaj, currently chairman at Bajaj Auto, told Business Standard that the issue is not just with Trump's import tariffs but also with his stand on immigration.
"In totality, what Trump is doing on import tariffs and immigration is wrong. Given the wide gap in per capita income of US and India should there be no difference," he asked.
He added that he will still demand for a level-playing field keeping in mind what is happening globally.
Bajaj Auto happens to be the largest exporter of two-wheeler from India.
Trump signed an order on March 8, imposing 25 per cent import duty on steel and 10 per cent on aluminium.
While India is not among the top exporters of these metals to US, the move is becoming a trigger among the industry to raise its concerns on how India should deal with threats from overseas players.
Their argument is that if an economy like the US is looking to protect the domestic industry and its investments, then it is more critical for India to make similar moves.
Anil Agarwal, chairman, Vedanta Resources said the Indian government should simplify the duty structure and remove the anomalies in metals like aluminium.
"When a country like the US, which does not need protectionism, requires to be protected, then in India, which is just growing, you need to hand hold (industry) for some time, because our interest cost and input cost are different."
India currently has a $20 billion trade surplus with US.
Aluminum and steel together account for around three per cent of India's exports to the nation.
So, it will not be impacted much, but CEOs fear China may divert the steel it exported to US to markets like India.
Sajjan Jindal, chairman and managing director of the country's biggest steel maker JSW Steel, asked the Indian government to impose similar tariffs on steel made overseas to protect local manufacturers.
"China has a surplus production of about 15 per cent which it is using to disrupt the steel industry world over by dumping cheap quality steel.
"What Trump has done is something our policy makers should also replicate. In fact, steel should be excluded from all free trade agreements (FTAs)," Jindal said while seeking a Trump-like tariff on steel imports.
It is important for our policymakers to understand what countries like China, Korea and Japan are doing, Jindal added, saying that these companies were exporting about 50 per cent of their products overseas and never buy anything imported.
"I am saying this not just for the steel industry but for all the sectors. We have to safeguard domestic manufacturers come what may.
"Trump like decisions are required irrespective of what the vote bank demands," Jindal said.
Voices in support of a stronger protection are not limited to the metals space which is under direct attack of Trump.
"In an ideal world we would like to see open markets and free economies. But in the last several years level-playing fields have been disrupted fairly significantly by China where both costs and exchange rates are, to a good degree, matters of state policy.
"This has led to dumping by Chinese exporters and importing countries have resorted to tariffs to protect local industry.
"We have only sought tariff protection in genuine cases of dumping. Trade and technology wars are bound to see a rise in the coming years, if current trends are an indication," said Harsh Goenka, chairman at RPG Enterprises.
Chinese imports in sectors like automobile tyres and paper have been a worry for the industry.
"Rising imports are having an adverse impact on India's manufacturing and profitability, as witnessed in our group businesses like paper and tyres.
"But so far India has restrained itself from taking trade retaliation measures. However with US upping the ante, India may have to re-evaluate its stance," said Harsh Pati Singhania, director at JK Organisation.
Besides the manufacturing industry, voices in favouring the need for protectionism have also been heard from local start-ups, which at times find it tough to compete with global players that entered India with deep pockets.
Flipkart's Sachin Bansal and Ola's Bhavish Aggarwal have, in the past, raised the banner of nationalism and urged the government to design policies that would favour homegrown companies.
ggarwal said that it was for the government to decide how it wanted to deal with capital dumping.
With inputs from Jyoti Mukul and Dev Chatterjee