The rise in India's relative attractions lie in the precipitous decline in safety of the more popular destinations, notes Kanika Datta.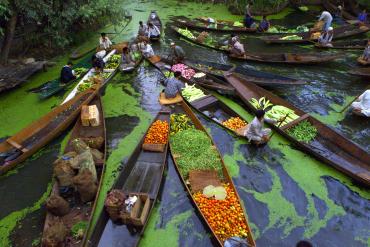 All of a sudden, if you look around you, India appears to be one of the world's less hazardous destinations for international tourists.

That's a great leap forward from just a year ago when the country was placed among the ten most dangerous places to visit, with random terrorism, poor public security and the deteriorating reputation for women's safety being stellar contributors.
This recently changed perception isn't really the result of anything the states or the central government have done.

The rise in India's relative attractions lie in the precipitous decline in safety of the more popular destinations, thanks to the toxic combination of the Islamic State (IS)'s insanity and the West's bigotry.
Last week, an article in Dabiq, the IS mouthpiece, helpfully informed readers that the organisation has embarked on a period of "conquest" in enemy territories by spreading terror and destroying their economies.

As the respected West Asian commentator Abdel Bari Atwan pointed out in his online journal Raialyoum, "IS has, in effect, declared war on more than 100 countries, including the three great powers (America, Russia, China), those with slightly less clout (such as France, Britain and Germany), and regional powers (such as Saudi Arabia and Iran)."
Tourism is a specific target for IS and it is no coincidence that most of the countries in its cross-hairs figure in the world's top ten tourist destinations - France being the leader, hosting 83.7 million tourists in 2014.

IS is now the terrorist outfit of choice for all god-fearing jihadis and they have already made good on this promise in Egypt, Mali, Tunisia and Paris (twice).

So, any country from the Balkans to the Baltic Sea, and from the Atlantic to the Pacific and beyond can be considered vulnerable to attack. Even the Islamic nations of Malaysia and Indonesia, are worried.
India, Mr Bari Atwan told me in an interview earlier this year, is not on the IS's radar because of this country's strong democratic traditions.

No doubt the country's insane if entertaining complexity would keep any potential modern "conqueror" at bay (and anyway, the few Indian youths who succumbed to the IS's violent charms have returned disillusioned).
Combine this with a July forecast by the Global Business Travel Association (GBTA) and India appears to be in a sweet spot, or nearing it anyway, as a travel destination.

The GBTA survey identified India as one of six "hot spots" - in the positive sense, that is - in which increased business travel demand will drive increases in air prices in 2016.

This prediction comes at a time when global air travel prices are expected to be flat. The other five destinations are: China, Colombia, Mexico, Singapore and Australia.
Yet, the prognosis looks gloomy. Despite this regime's generous concessions on on-arrival visas to a raft of countries (many of which don't reciprocate) and the introduction of e-visas in 16 airports for 113 countries, inbound tourism grew just four per cent in the calendar year till October, and no one is expecting a rush for the remaining months.
The fewer tourists coming to India are also spending less time here.

In a reply to a parliamentary question, Minister for Culture Mahesh Sharma said the average stay of international tourists has declined by two days since 2012, from 20-22 days to 18-20 days.
India, which can offer a far greater variety of monuments, natural beauty and hospitality than almost any other single country, does not even figure among the top ten Asian destinations for inbound tourism.

The 7.6 million visitors to the country last year (and that includes non-resident Indians) compares poorly with, say, 11.8 million to tiny, boring Singapore, forget 55-odd million to China.
The government thinks in terms of campaigns and the industry in terms of concessions.

Both have limited utility. Many refer to high threat perception from terrorism, whether Maoist (the biggest killer), Islamic, Hindu, northeast insurgent or otherwise. This too can be countered.
If we were to draw lessons from the top ten tourist destinations (bar Mexico, which probably enjoys free rider benefits from the US, the world's second largest tourist destination), the answer lies in providing basic cleanliness and safety.

Tourists in the top ten destinations can, for instance, use public transport with ease and be assured (till recently) of a level of personal safety.

Few parts of India can offer this advantage even to its own citizens. Those two guarantees, for instance, helped Sri Lanka maintain a steady inflow of foreign visitors through all the years of a debilitating civil war in the north.
India is ranked 52 out of 141 economies in the World Economic Forum's Travel and Tourism Competitive Index ranking for 2015.

The middling ranking is the result of low ranks in tourism-related infrastructure (109), health and hygiene (114) and safety and security (97).
Travel and tourism also account for a diminishing percentage of India's gross domestic product - from a peak of 9.2 per cent in 2000 to 6.8 per cent in 2014.

That suggests a senseless under-exploitation of an advantage that is Made in India. Now, the opportunity to build on it is ours to lose.