Much excitement has been generated around the impending auctions of 204 coal mines, which could, some reports suggest, take place before the end of December this year.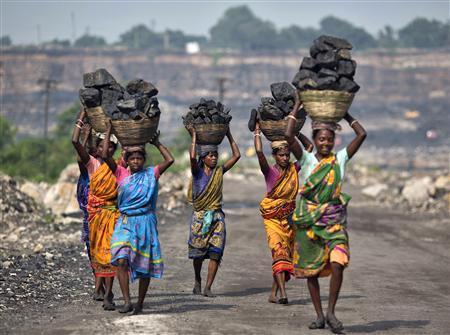 The big question is whether, 40 years after coal mining was nationalised, India will see a reordering of the coal industry with pure-play global mining majors like BHP Billiton and Rio Tinto perhaps making their debut and competing with possible domestic entrants like Reliance Power, Indiabulls, Lanco and Jindal Steel & Power in this critical natural resources industry.
How radically the industry changes, however, depends on how the government goes about designing the auction in terms of setting the reserve price and other technical parameters.
First, a clarification.
It is not as though all 204 mines, which had previously been allotted to various companies by successive governments since 1993 and which the Supreme Court has cancelled, are being thrown wide open to bidders in a big-bang privatisation drive that will finally challenge the domination of state-owned Coal India.
Of these 204 mines, 74 are reserved for users in notified categories (power plants, for instance) called the second and third schedules.
Mines listed in the second schedule comprise 42 producing blocks.
The 32 mines in the third schedule are in various stages of development.
That leaves 130 mines in the first schedule and it is these that the government intends to open to commercial mining.
"This will help in bringing in specialist mining companies that have no end-use interest, and will be more efficient than end-use companies that have limited mining expertise," says Kameswara Rao, energy, utilities, and mining leader, PricewaterhouseCoopers.
Also, contrary to common belief, the current National Democratic Alliance government isn't setting a precedent.
The United Progressive Alliance had actually started auctioning coal blocks in March this year after rules under an amendment to the Mines and Mineral (Development & Regulation) Act were notified in December 2012.
The current Ordinance -called the Coal Mines (Special Provisions) Ordinance - was adopted to deal with the situation arising out of the Supreme Court's order cancelling the coal blocks.
The right price The March auctions were largely a failure because they involved a high reserve price, and the three mines up for auction had low extractable reserves (see box: No rush here) which made the bids unviable.
For the auctions of 204 blocks, signals are that it will follow the same model that was followed for the auction of telecom spectrum, the airwaves that enable wireless communications.
But this, too, could be fraught with problems.
"The government needs to appreciate that the auction designed for natural resources is very sensitive to these parameters [price and coal reserves] unlike, say, auctions of spectrum or FM radio bands," says Rao.
Although it is the "first schedule" blocks that are expected to see interest from new participants, it is the 74 mines in the second and third schedules that are likely to go first, owing to the possibility of accessing better and higher coal reserves compared to the ones offered under the earlier round of auctions, predicts Rahul Prithiani, director, CRISIL Research.
"For operational and near operational mines, the reserve price will be easier to determine.
Most clearances, too, would have been already achieved, so these mines can be auctioned faster," he points out.
Some suggest that companies that have signed supply agreements with Coal India may desist from participating in the auction since an assured linkage is better than the uncertainties linked to mining, an activity typically fraught with controversy in India for reasons ranging from environment laws to rehabilitation norms.
But Prithiani makes the point that companies whose mines have been de-allocated (under the Supreme Court order of October) and a large number of companies that cannot access adequate coal from the domestic market are likely to bid.
Plus, he adds, a coal mine acquired through an auction will eventually mitigate the perennial risk of fluctuations in coal price, currency and regulations in the exporting countries.
Which raises the key issue of the reserve price and how high the bidding goes.
Though the reserve price is likely to be 10 per cent of the value of reserves benchmarked to international coal prices, the auction price has to be lower than imported coal price for it to be attractive.
A price higher than imported coal for a grade that is inferior in terms of ash content and calorific (or heating) properties -as most Indian coal often is - may actually deter companies from bidding.
Market depth The price at which bids are accepted is critical because coal prices in India are still mostly administered by the government.
So the question that potential bidders will have is how far the price of coal produced from these mines, which will be determined by the price at which the block is bagged, can be absorbed by the market. Indeed, the issue of administered pricing could well make or break the success of the private sector in coal mining.
As Prithiani says, "For successful commercial mining of coal, prices will need to be determined by demand and supply factors."
Still, no one can deny that the upcoming auctions have the potential to be a game-changer.
The opening up of the sector will help India - which hardly has any pure-play mining company, apart from Coal India - evolve over time either in collaboration or in competition with foreign players.
India has one of the world's largest reserves of coal but it is also one of its most significant consumers.
As a result, a large part of its coal requirement is imported. In 2014-15 so far, 49.4 million tonnes of coal has been imported.
Decades of a state-owned monopoly selling coal at a fixed price has taken its toll on production.
The impending auctions, therefore, could well mark a major step forward. But just as with other resource industries, everything hinges on how efficiently policies and rules are crafted.
Coal auctions: No rush here In March 2014, the United Progressive Alliance put up three coal blocks in Jharkhand for auction.
The government's auction method envisaged upfront and production-linked payments and benchmarking of coal sale prices.
"The methodology provides for auctioning the fully explored coal blocks and also provides for fast-tracking the auction by exploration of regionally explored blocks," the government had said then.
It provided for production-linked payment on a rupee-per-tonne basis, plus a basic upfront payment of 10 per cent of the intrinsic value of the block.
The response was lacklustre. Of the three blocks, only one attracted interest from two companies. For the other two blocks, there was no response.